Le mystérieux Squelette d'or du nom de Oro refait parler de lui sur Fortnite avec le teasing pour la saison 2 au Brésil...
Un skin a été trouvé dans les fichiers du jeu il y a de cela plusieurs semaines, sans arriver dans la boutique de Fortnite. Ce skin, c'est Oro, un squelette en or ! Mais depuis ce week-end, tout le monde reparle de lui. La raison ? Un mystérieux trailer diffusé dans le métro brésilien où l'on peut voir une étrange trace de main en or. Ni une ni deux, la communauté s'est alors emparée du dossier. Et s'il s'agissait d'un teasing pour la saison 2 avec le skin Oro ?
Toutes ces informations sont bien évidemment à prendre au conditionnel, Epic Games n'a rien confirmé pour le moment sur ses réseaux sociaux. Mais les indices sont nombreux !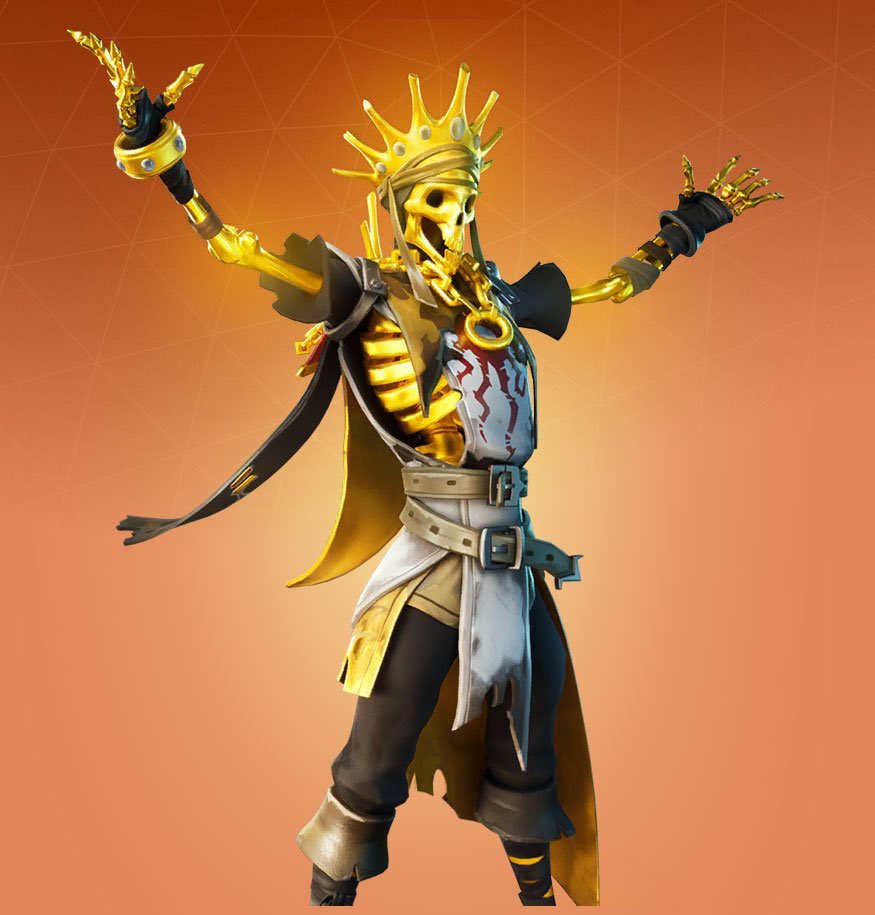 Voilà à quoi ressemble le
skin Oro
Le teaser Fortnite dans le métro au Brésil
Tout à commencer avec ce trailer diffusé donc dans le métro brésilien. Ce n'est pas la première fois que Epic Games propose un tel jeu à ses joueurs dans la vraie vie, l'éditeur est friand de ce genre d'événement pour préparer ses nouvelles saisons de Fortnite.
Quand on regarde attentivement la vidéo, on se rend compte qu'à la fin, il y a une empreinte de main en or sur l'écran. Certains joueurs ont ainsi fait le rapprochement avec le skin Oro, bien que rien ne soit officiel !
For those who were sleeping, fortnite is teasing the next seasons in some countries ob some billboards, there's a phone number too and when you call it, it translates to this (thanks to @FlakesPower):

- Yes sir.
- The agents were called.
- Card to access the safe purchased. pic.twitter.com/TCe7cugGUe

— HYPEX - Fortnite Leaks & News (@HYPEX) February 16, 2020
Théorie sur la nouvelle saison et l'or
De nombreuses théories ont ainsi vu le jour sur les réseaux sociaux. Il y a bien évidemment eu cette vidéo au Brésil mais ce n'est pas tout car certaines villes du monde ont pu avoir des affiches du jeu Fortnite dans leurs rues. Pour le moment, on ne sait pas vraiment ce à quoi cela peut correspondre.
Parmi les théories, celles de Yanteh, partagées par d'autres comptes Twitter ce dimanche 16 février. La théorie se base déjà sur les événements habituels concernant une nouvelle saison. Epic Games est habitué à tease sur les réseaux sociaux les nouvelles avec des tweets J-4, J-3... La suite de la théorie reprend l'annonce de Epic Games concernant la date de la saison 2. Dans son communiqué, l'éditeur avait caché du texte en mettant trois passages couleur or. Selon cette théorie donc, on devrait en savoir plus lundi, mardi et mercredi ; chaque jour correspondant à chaque passage en or (source en français).
[ANALYSE]

Je pense qu'on est tous d'accord que l'empreinte en or ressemble beaucoup à celle d'un squelette.

[THEORIE]

Il reste 4 jours pour la Saison,il y aura 4 teasers, aujourd'hui c'est le premier, chaque jour la première barre jaune révélera le thème de la Saison ! pic.twitter.com/gQyMMPZsqU

— Yanteh - French Fortnite Leaker (@Yanteh_) February 16, 2020
Certaines personnes supposent qu'un premier tweet sera posté aujourd'hui à 16 h ou 17 h, il ne reste plus qu'à attendre mais quoi qu'il en soit, on devrait en savoir plus en début de semaine prochaine.