Coca-Cola et Riot Games s'associent aux chaînes de grands magasins en Turquie et vend dès aujourd'hui des bouteilles à l'effigie des héros de League of Legends et offrent également des codes pour RP sur celles-ci.
Ce n'est pas une première pour Coca-Cola puisque en 2014, à l'occasion du mondial League of Legends en Corée du Sud, la célèbre marque de boissons s'était associées à Riot Games pour proposer des bouteilles à l'effigie des champions de LoL.
Cependant, les deux sociétés font un nouveau partenariat mais cette fois très intéressant pour les joueurs puisque toutes les bouteilles auraient des codes à échanger contre des RP. Ce partenariat avec des grandes chaînes de magasins en Turquie permet aux consommateurs de récupérer 200 RP contre seulement 0,25 € soit l'offre la moins chère pour la monnaie virtuelle du jeu comme le révèle un utilisateur Reddit.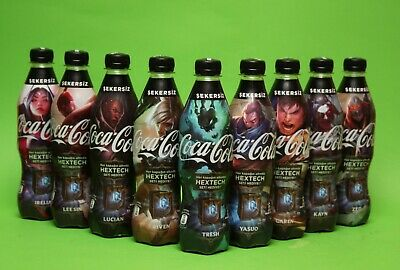 Un échantillon des bouteilles Coca-Cola à l'effigie des champions de LoL.
Pour le moment, les bouteilles arborent des habillages pour Thresh, Yasuo, Riven, Lucian, Garen, Kayn, Lee Sin, Zed, Lux, Blitzcrank et Irelia.
Si vous êtes donc en vacances en Turquie, saisissez cette occasion exceptionnelle de vous acheter un maximum de skins à moindre coup.