On connait enfin la date de sortie et le titre du prochain album ALL/OUT de K/DA, le plus célèbre groupe de l'univers de League of Legends !
Nous étions prévenus, THE BADDEST n'était que le début de la reprise pour K/DA. Le groupe virtuel de Kpop issu de l'univers de League of Legends annonce officiellement que l'album EP ALL/OUT sortira le 6 novembre 2020.
MAJ :
Après avoir révélé le titre de l'album, Riot Games dévoile le titre des différentes morceaux qui seront disponibles.
THE BADDEST

MORE

VILLAIN

DRUM GO DUM

I'LL SHOW YOU
Date de sortie du prochain album de K/DA
Après le succès de POP/STARS durant la finale des Worlds 2018, le groupe de Kpop virtuel composé des champions Ahri, Kai'Sa, Evelynn et Akali faisaient un retour fracassant avec le single THE BADDEST.
Bonne nouvelle, l'équipe de choc ne compte pas s'arrêter là, et prévoit de sortir un album EP avec plusieurs titres le 6 novembre 2020.
Cover et visuels pour l'album ALL/OUT
Pour nous mettre l'eau à la bouche, Riot Games Music publie plusieurs visuels, dont la couverture de l'album ALL/OUT :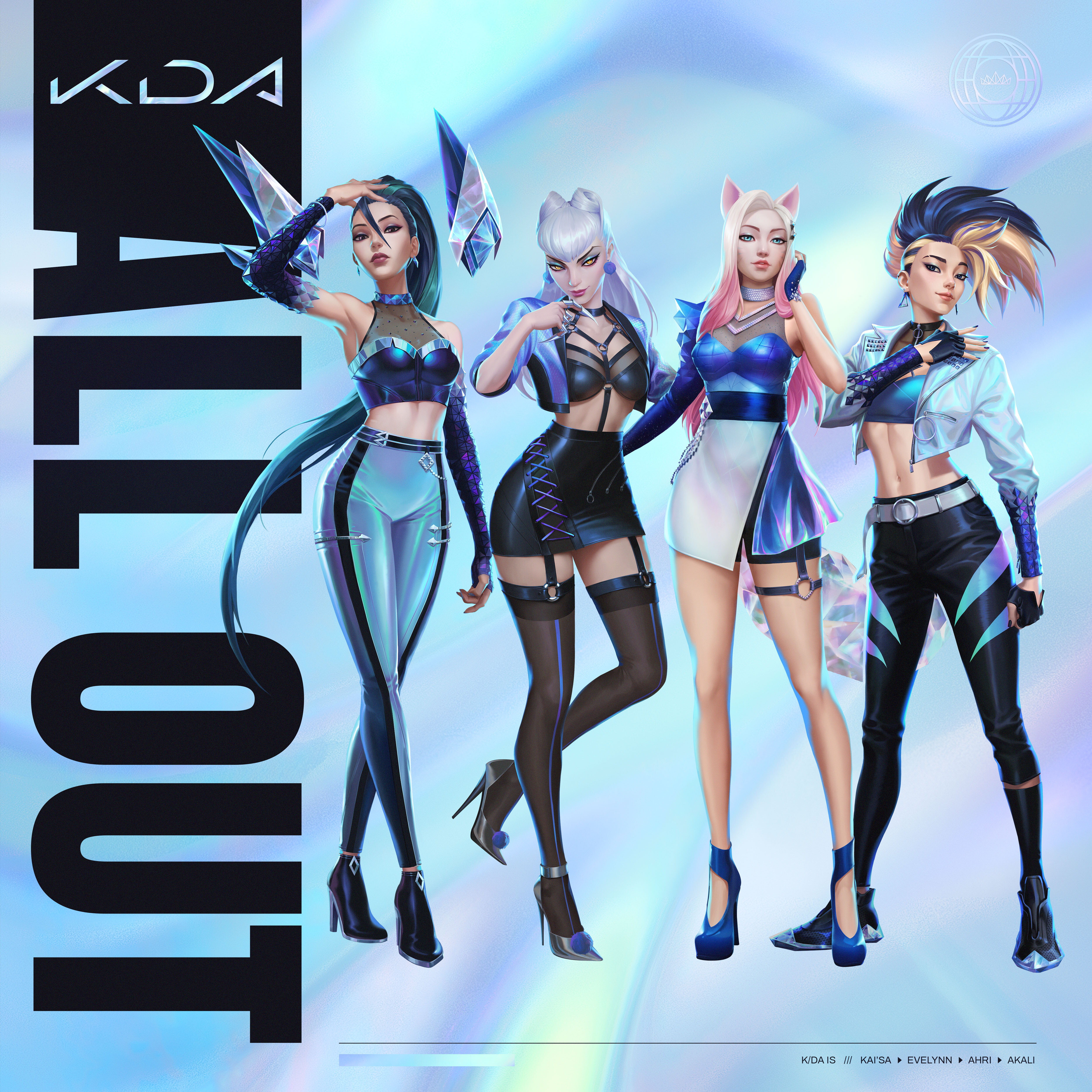 Collaboration avec Seraphine, futur champion
L'équipe de K/DA s'agrandit puisque Seraphine, futur champion annoncé sur le jeu, viendra prêter main forte aux musiciennes le temps d'une chanson.
Asked and answered. @seradotwav #KDA #SERAPHINE #COLLAB #CALLINGALLBLADES #BLADES #COMINGSOON pic.twitter.com/HRAG7e3rZs

— K/DA (@KDA_MUSIC) September 4, 2020
Concernant les interprètes des musiques, tout est possible puisque Riot Games indique que de nombreux artistes avaient participer à la création de l'EP ALL/OUT.
Un concert prévu durant les Worlds 2020
Le spectacle ne s'arrête pas là. Durant les Worlds 2020, un grand show mettra en avant les titres phares du groupe. Connaissant les performances offertes les années précédentes, on s'attend à en prendre plein les yeux et les oreilles !