De nombreux artistes se sont réunis pour le nouvel album de K/DA ! SOYEON, MIYEON et même Jaira Burns et Madison Beer font partie du roster de ALL/OUT.
Le groupe virtuel de Kpop issu de l'univers de League of Legends a déjà prévu son retour avec l'album ALL/OUT qui sortira le 6 novembre 2020 prochain.
Si vous avez aimé THE BADDEST, vous êtes sans doute impatients de découvrir les prochains titres de l'EP de K/DA.
De nombreux interprètes ont pu participer à la création de cet album, et prêter leur voix aux champions Ahri, Kai'Sa, Evelynn, Akali et Séraphine :
THE BADDEST (featuring SOYEON et MIYEON of (G)I-DLE, Bea Miller, Wolftyla)
MORE (featuring SOYEON et MIYEON of (G)I-DLE, Jaira Burns, Madison Beer, et Lexie Liu)
VILLAIN (featuring Madison Beer et Kim Petras)
DRUM GO DUM – Aluna, Wolftyla, Bekuh Boom
I'LL SHOW YOU – Twice, Bekuh Boom, Annika Wells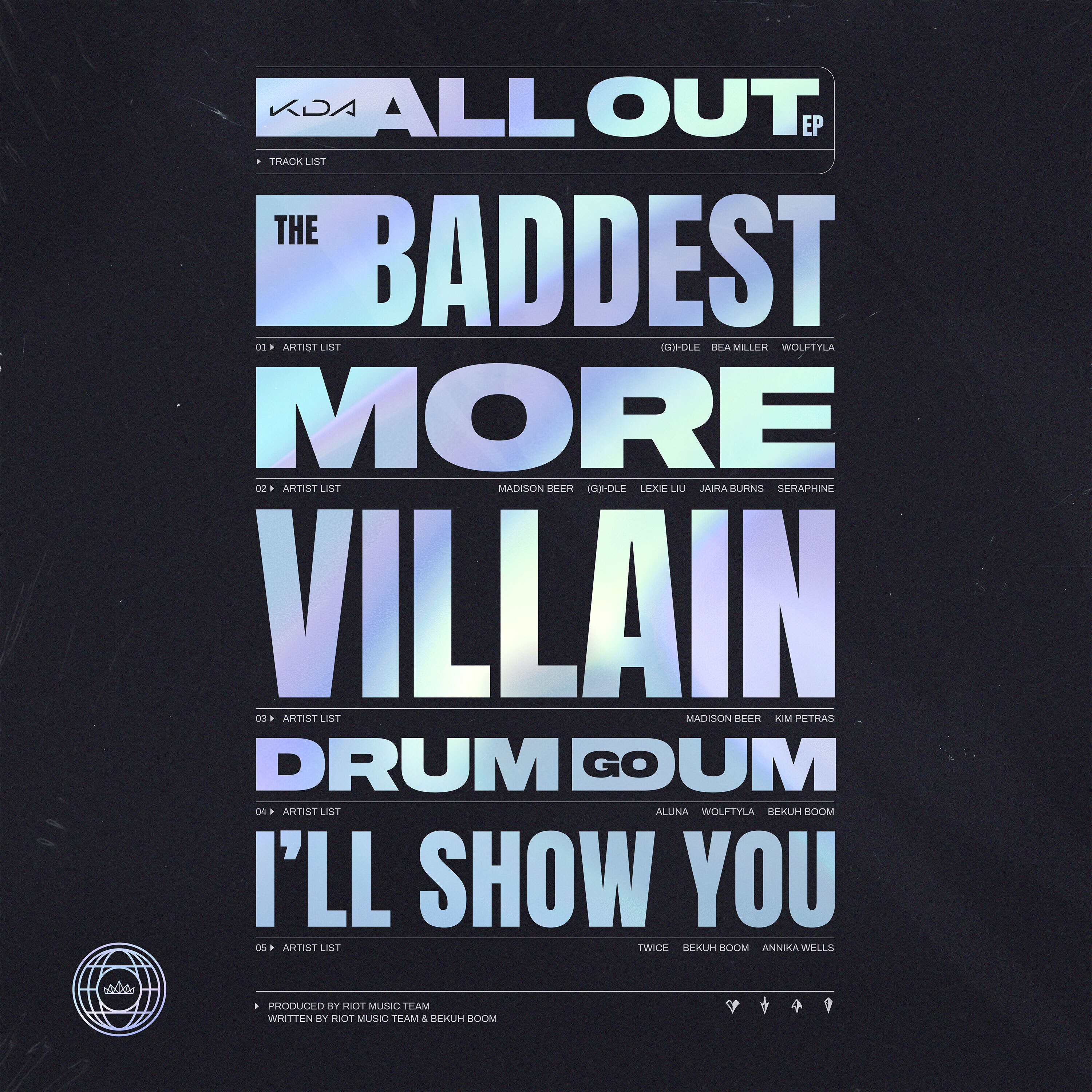 Les artistes interprètes de K/DA
SOYEON, MIYEON, Jaira Burns et Madison Beer
Les membres du groupe de Kpop (G)I-DLE ont déjà fait leurs preuves avec POP/STARS et THE BADDEST. Les deux chanteuses reprendront les casquettes d'Akali et d'Ahri pour la chanson MORE avec Jaira Burns et Madison Beer. Le roster d'origine de K/DA sera ainsi réuni !
De nouveaux artistes au rendez-vous
Riot Games Music avait annoncé que de nombreux artistes allaient collaborer ensemble pour l'album de K/DA. Parmi eux, nous découvrirons Lexie Liu, chanteuse et rappeuse originaire de Chine.
Kim Petras et Aluna apporteront une touche européenne puisqu'originaires respectivement de Cologne en Allemagne et du Pays de Galles.
Wolftyla quant à elle est une chanteuse d'origine coréenne et américaine qui avait été dévoilée par l'application Vine.
Si vous ne connaissez pas Bekuh Boom, vous connaissez sûrement son travail. En effet, elle a travaillé pour l'écriture de très gros HITS en Corée du Sud, notamment Ddu-Du Ddu-Du et Boombayah de Blackpink.
Pour finir, le groupe de Kpop Twice et la chanteuse Annika Wells participeront à la dernière musique de l'album : I'LL SHOW YOU.