Le main event des Worlds 2019 débute le 12 octobre et Riot Games a enfin dévoilé le clip officiel pour son mondial. L'hymne est intitulé Phoenix.
Mise à jour du 8 octobre, 21h50 : Riot Games vient d'officialiser l'information qui avait fuité et a publié dans la foulée le clip officiel pour l'hymne des Worlds 2019. La chanson est bel et bien écrite et interprétée par Cailin Russo et Chrissy Costanza, la chanteuse du groupe Against The Current.
---
Mise à jour du 8 octobre, 21h10 : Bien des fans attendent avec impatience la musique des Worlds et cette dernière aurait peut-être fuité puisqu'elle serait disponible sur l'Apple Music d'Hong Kong.
En effet, il est possible de trouver un échantillon d'une chanson nommée Phoenix par Riot Games, écrit par Cailin Russo et Chrissy Costanza, la chanteuse du groupe Against The Current, a qui on doit le titre Legends Never Die des Worlds 2017. La version intégrale serait déjà disponible sur le site chinois weibo.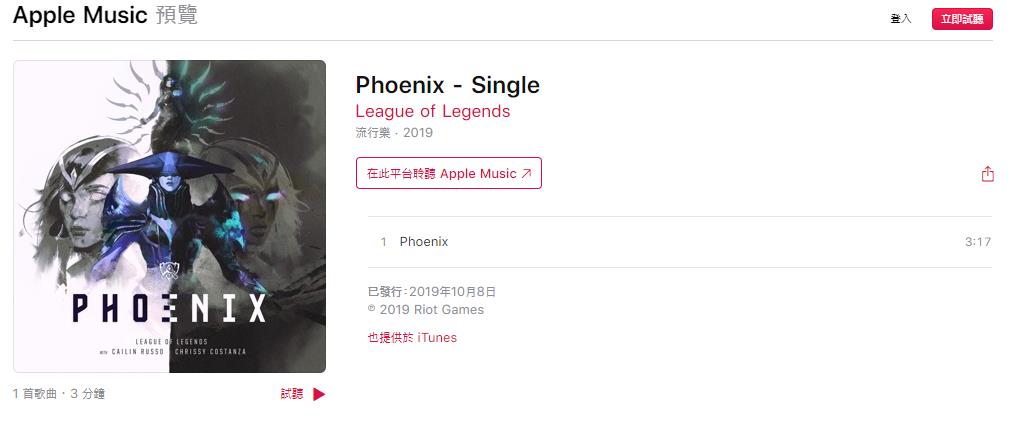 La présentation de la musique sur l'Apple Music d'Hong Kong.
Une information à prendre avec des pincettes, mais qui semble tout de même très probable. Il ne fait aucun doute que Riot Games ne devrait plus trop tarder à révéler la musique et le clip officiel pour son mondial 2019.
---
« Quand est-ce que la musique des Worlds sort ? » Voici la question qui est sur toutes les lèvres depuis déjà quelques semaines, alors que Riot prend son temps pour diffuser l'hymne officiel du mondial. Alors que celui-ci est généralement disponible dans les jours précédents le début du tournoi, la compétition a déjà commencé mais les fans attendent encore leur dose de hype. Voici tout ce que nous savons à l'heure actuelle sur la musique des Worlds 2019.
La musique des Worlds existe, mais n'est pas encore prête
Alors que les différents comptes officiels de Riot se font harcelé par la question sur tous les réseaux sociaux, c'est celui de League of Legends EU sur Twitter qui a confirmé le 30 septembre que la musique des Worlds avait du retard.
It's not quite ready yet, I'm afraid, but we'll post when we have it!

— League of Legends EU (@loleu) September 30, 2019
« J'ai peur que [la musique des Worlds] ne soit pas encore prête, mais nous la publierons lorsque nous l'aurons ! »
Après ce tweet, beaucoup de personnes ont pensé qu'elle serait lancée en même temps que le coup d'envoi des Worlds. Pourtant, ce mercredi 2 octobre lorsque les play-ins ont commencé, Riot est resté en silence radio.
Riot l'attend autant que nous
Sur place dans les studios du LEC pour le début du play-in, le journaliste d'ESPN FionnOnFire a eu l'occasion de poser des questions à différents membres de Riot concernant la musique des Worlds. Il aurait reçu quelques réponses, dont il a résumé les grandes lignes dans un tweet.
I asked a few Riot people about the worlds song

1. Yes, it exists

2. They want it out just as much as everyone wants it out

3. Things are coming along and it was supposed to come out earlier apparently

I predict it will come out some time between now and Christmas

— The Esports Writer (@FionnOnFire) October 2, 2019
« J'ai posé des questions à quelques personnes de Riot sur la chanson des Worlds
1. Oui, elle existe
2. Ils veulent la sortir autant que tout le monde veut qu'elle sorte
3. Le processus avance et elle était apparemment censée sortir plus tôt »
Lindsey Stirling impliquée dans le projet ?
Il s'agit d'une des rumeurs les plus tenaces d'internet depuis un tweet de Lindsey Stirling qui laissait entendre que participer à la musique des Worlds pourrait l'intéresser. Beaucoup de fans aimeraient voir la musicienne qui vient à la base de Youtube poser sa patte sur l'univers de League of Legends.
« Qui serait excité si je faisais un projet avec League of Legends ? »
Cette nouvelle a même entrainé des petits malins à poster une fausse vidéo de la musique des Worlds, qui était en réalité le morceau « Never gonna give you up » de Rick Astley, aussi connu sous le nom de « Rick Roll ».
Pour le moment, nous ne savons pas précisément quand l'hymne du mondial sortira. Il est possible qu'elle soit diffusée dans les prochains jours, ou que Riot décide d'attendre le début du main event qui aura lieu le 12 octobre.