Zi-Hao « Uzi » Jian a annoncé qu'il prenait sa retraite suite à de nombreux problèmes de santé.
Il s'agit de la fin d'une ère pour League of Legends. Après un split passé sur le banc, Zi-Hao « Uzi » Jian a finalement annoncé via un post sur le réseau social Weibo qu'il prenait sa retraite en tant que joueur professionnel. Après près de 8 années passées au plus haut niveau de compétition, l'ADC chinois ne jouera plus aux côtés de Royal Never Give Up, son départ ayant été poussé par divers problèmes de santé qui le suivaient depuis longtemps.
As of today, LPL0006 @UziRNG will officially retire. Uzi was not only the heart and soul of RNG, but also an icon in the esports world as a whole. From a teenager onwards he never gave up and worked as hard as he could to be the best he could in his role, he inspired many. pic.twitter.com/wsqqOnqE4o

— Royal Never Give Up (@RNGRoyal) June 3, 2020
Une retraite motivée par des problèmes de santé
Dans son message d'explication, Uzi a cité plusieurs problèmes de santé qui ont précipité sa retraite. Il mentionne ainsi le « stress chronique, l'obésité, un régime alimentaire irrégulier, rester éveillé tard le soir », mais surtout son diagnostic de diabète de type II, une maladie très rare pour une personne aussi jeune. Généralement, elle touche principalement les adultes entre 40 et 60 ans.
À seulement 23 ans, le joueur chinois a annoncé que malgré les différentes mesures et les médicaments qu'il avait pris ces derniers mois, justifiant son absence en LPL durant le spring split 2020, la situation n'avait pas évolué. Il a également cité les effets secondaires de ses médicaments qui font que son « état mental n'était pas aussi bon qu'avant ».
En plus de ces complications récentes, Uzi avait déjà eu de nombreux problèmes de douleurs dans les mains, les poignets et le dos, un phénomène plutôt commun chez les joueurs professionnels. Tous ces facteurs l'avaient déjà poussé à prendre de nombreuses pauses durant les splits précédents en LPL, mais cette fois-ci l'accumulation des différents maux ne lui « permettent plus de combattre ».
Le meilleur joueur à ne jamais avoir remporté les Worlds
Si Uzi est reconnu comme l'un des meilleurs joueurs du monde sur League of Legends, généralement placé en deuxième position derrière Faker, il n'a goûté à la victoire que très tard dans sa carrière. Malgré un départ canon, réussissant à se propulser jusqu'en finale des Worlds lors de sa première année compétitive à seulement 16 ans, il n'a remporté aucun titre en LPL ou à l'international jusqu'à 2018.
Dès sa première année, Uzi était déjà réputé comme un monstre mécaniquement.
En effet, il a passé le plus grand de sa carrière en éternel second, jusqu'à la saison 8 durant laquelle il est passé très proche de réussir une année parfaite, remportant les deux splits de la LPL et le MSI. Sa course aura toutefois été interrompue par G2 Esports lors des quarts de finale des Worlds.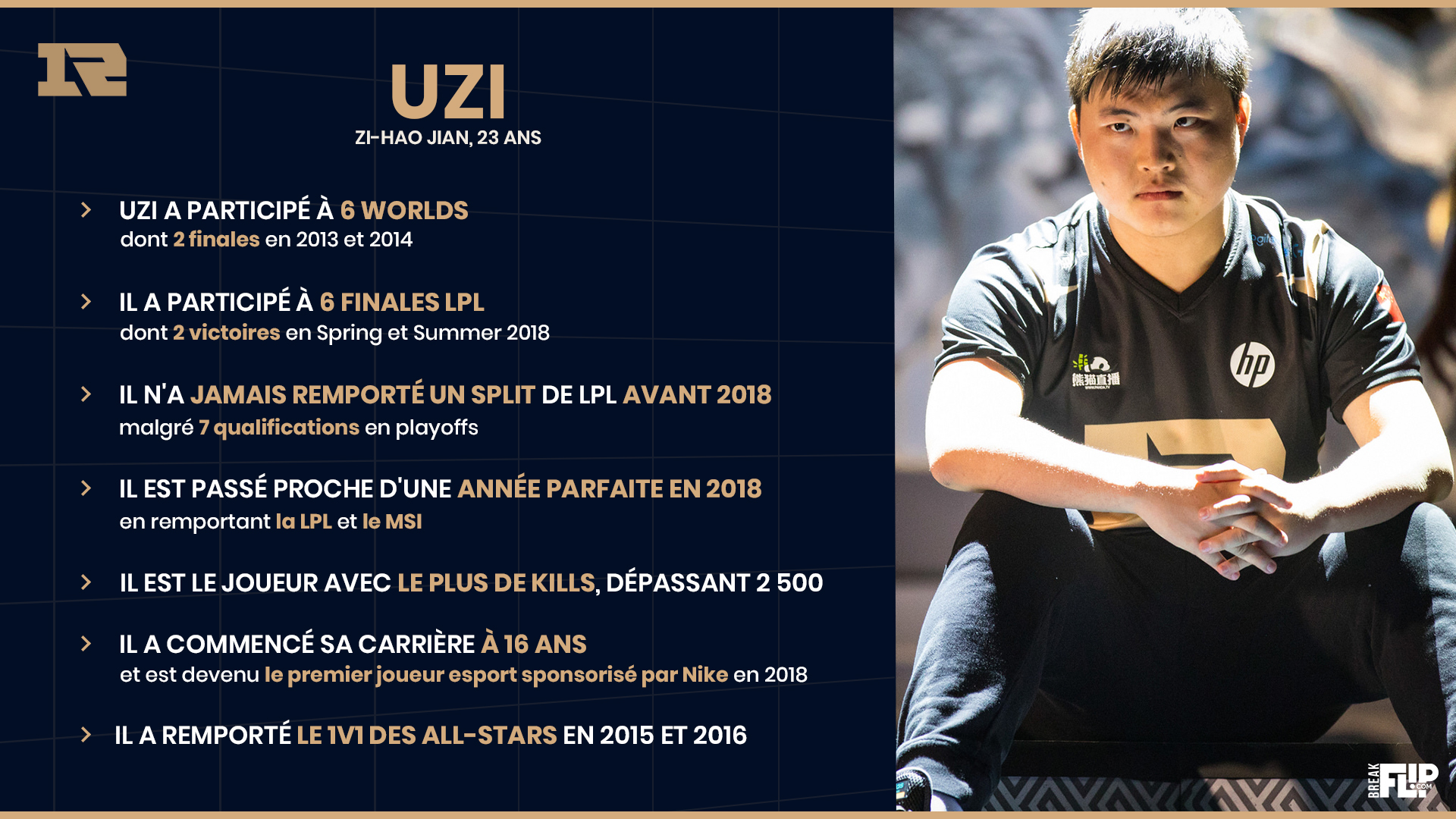 Année après année, les différentes équipes avec lesquelles il a joué (Star Horn Royal Club, puis OMG, Qiao Gu Repaers et surtout Royal Never Give Up) ont toujours été centrées autour de sa capacité à évoluer sur des hyper carrys. Étant constamment protégé par ses alliés qui lui donnaient un maximum de ressource, le style de jeu de ces différents roster a été surnommé la stratégie « Raise the Puppy ». Uzi était toutefois également reconnu pour son excellente phase de lane, capable de prendre une avance considérable sur son vis-à-vis même face aux meilleurs ADC du monde.
L'annonce de la retraite d'Uzi est un choc pour la scène esport de League of Legends. Si son palmarès n'est sans doute pas à la hauteur par rapport à son talent, il ne fait aucun doute que l'ADC a marqué la compétition durant de nombreuses années, et sera retenu l'éternel rival de Faker pour le titre de plus grand joueur de l'histoire.