La Lyon e-Sport revient en 2020 pour sa treizième édition. Du 28 février au 1er mars, c'est trois compétitions qui seront proposées sur League of Legends, Fortnite et Trackmania. Un rendez-vous que vous pourrez suivre sur place où à travers les nombreux streamers qui feront le déplacement.
Qui dit nouvelle année dit nouvelle Lyon eSport ! L'organisation de l'une des plus grande LAN française vient de dévoiler le trailer de l'édition 2020 du tournoi. Au programme cette année, le traditionnel tournoi de League of Legends, une compétition sur Fortnite mais surtout l'arrivée de Trackmania avec deux événements pendant le week-end.
Cette année, la LAN se déroulera du 28 février au 1er mars, toujours à la Cité des congrès de Lyon. Le week-end de compétition s'ouvrira dès le vendredi 27 puisque l'événement va accueillir la Grande finale de la Trackmania Grand League, le circuit pro officiel du titre de Nadéo. Le tout commenté sur scène par le duo Sardoche/Étoiles.
La Lyon e-Sport 2020
Trailer de la Lyon eSport 2020
320 joueurs pour le tournoi League of Legends
Cette année c'est 64 équipes, soit 320 joueurs, qui ont répondu présents pour le tournoi League of Legends. Après une phase de groupe commune, les équipes seront réparties dans 3 tableaux en fonction de leur performance au premier tour : l'arbre professionnel, élite et amateur.
Au total, la compétition proposera un cashprize de 36 000 euros avec 16 000 euros pour l'équipe qui remportera le tournoi professionnel.


De nombreuses équipes reconnues seront présentes et la structure Solary sera sur place pour participer à la compétition et vous faire vivre l'événement de l'intérieur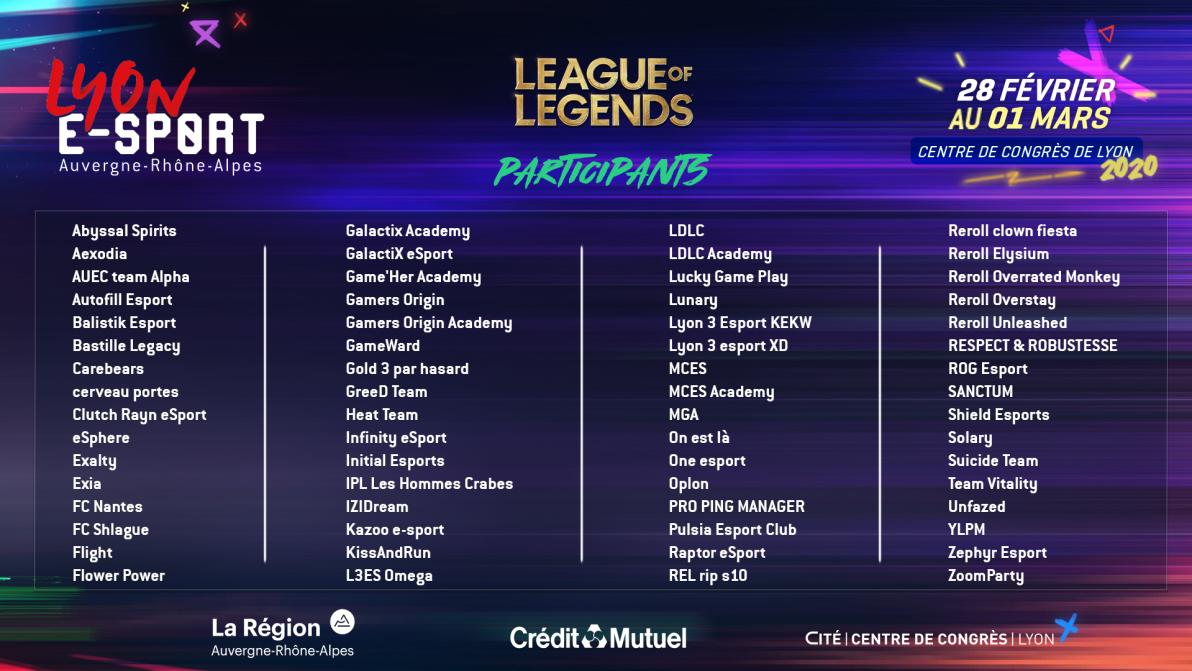 Crédit : Lyon eSport
Grosses batailles en vues pour le tournoi Fortnite
Vitality, LeStream, Exalty ou Solary... Ces quatre structures aligneront un ou plusieurs duo pour la troisème édition de ce tournoi. Au programme c'est 96 équipes qui vont se disputer les 15 000 euros de cashprize mis en jeu pour le gagnant. Top départ de la compétition prévu le 28 février à 10h !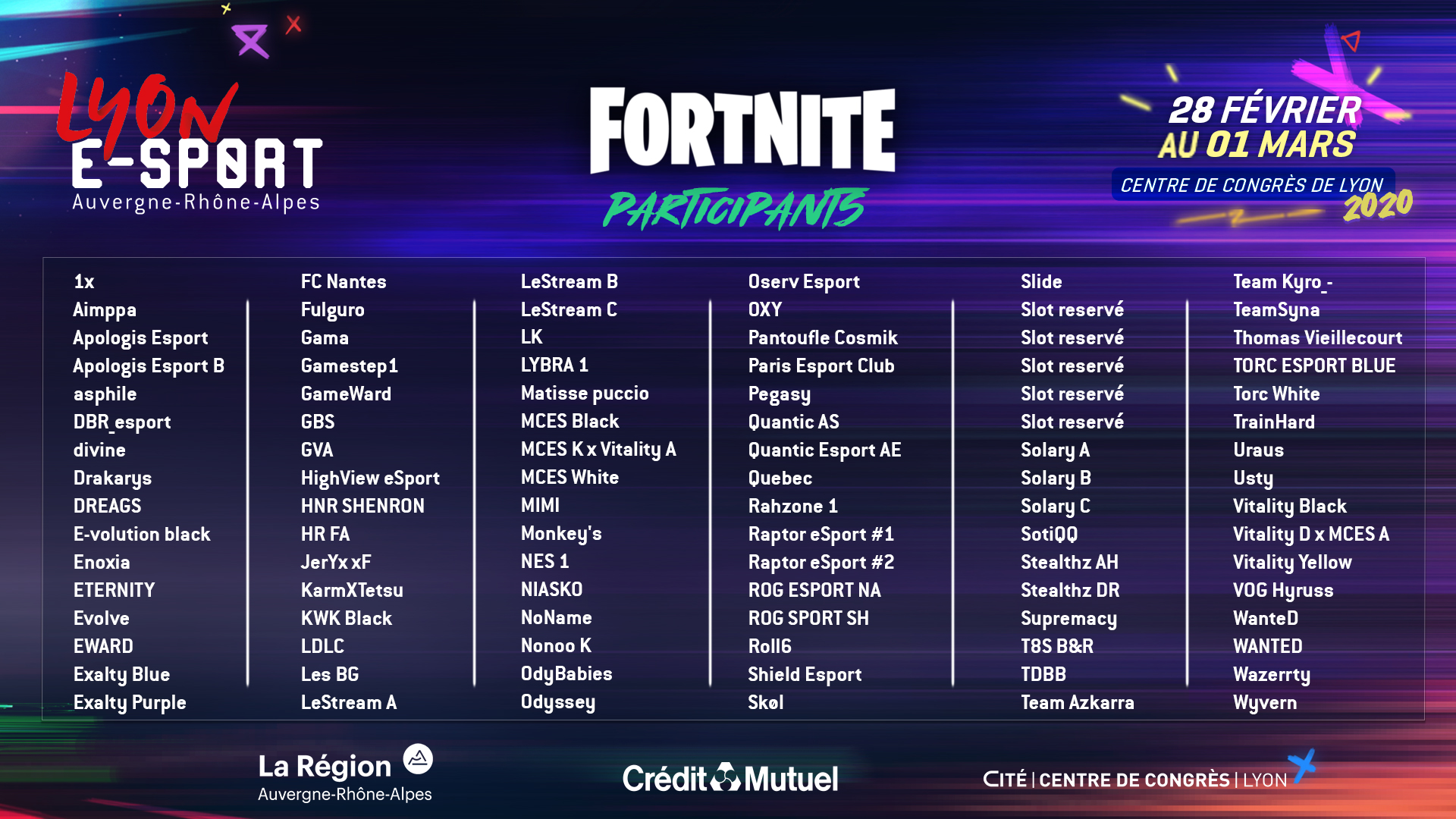 Crédit : Lyon eSport
Le gratin mondial au tournoi trackmania
C'est le nouveau venu cette année, le tournoi trackmania de cette Lyon eSport 2020 s'annonce déjà passionnant. En plus des finales de la Grand League en ouverture, un tournoi réunissant 64 pilotes, dont les participants à la ligue de Nadéo, débutera à partir du samedi 28 février. Dans la liste des joueurs inscrits, il est possible que certains noms vous soient plutôt familiers : Wingobear, Papou, CarlJR ou encore ZeratoR seront de la partie !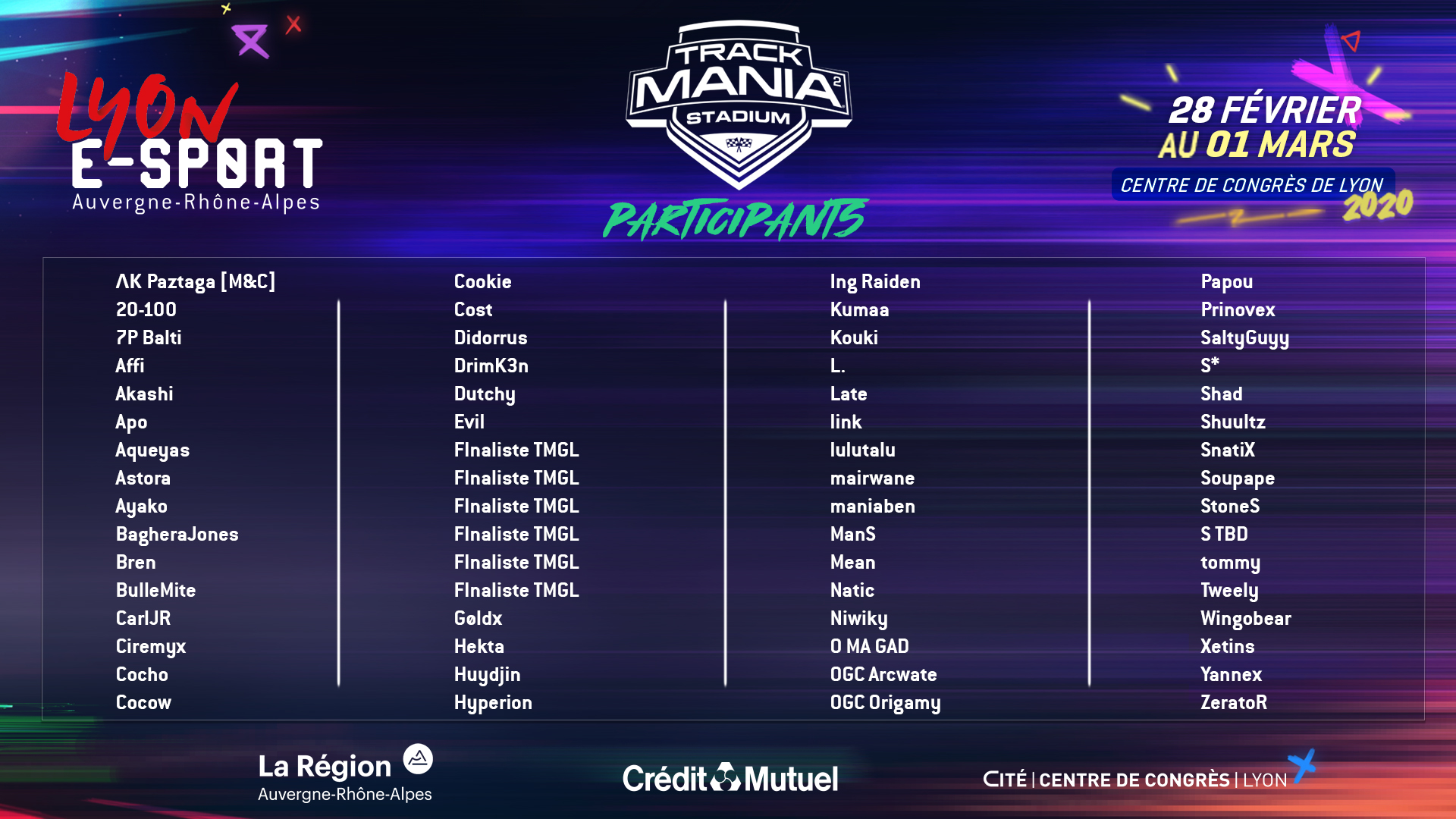 Crédit: Lyon eSport
Vous pourrez suivre pendant le tournoi l'intégralité des tournois, que ce soit à travers les streams des joueurs ou structures présentes sur place, mais aussi avec le live officiel depuis la grande scène.
Si vous préférez vous rendre directement sur place, des pass visiteurs sont en vente sur le site officiel. En plus des compétitions, le week-end sera ponctué, comme chaque années, par diverses animations sur place.