Avec l'arrivée imminente de plusieurs nouveaux jeux, Riot souhaite que vos comptes soient tous liés entre eux. Nous vous expliquons la marche à suivre.
Avec le dixième anniversaire et l'annonce de nombreux nouveaux jeux, notamment Legends of Runeterra, Project A ou encore Project L, Riot a décidé de changer son système de compte. Si vous jouez à LoL, plutôt que d'avoir simplement un compte LoL et de devoir créer un nouveau compte pour les autres jeux, vous aurez désormais un compte Riot qui fonctionnera pour tous les jeux et tous les serveurs.
Qu'est-ce qu'un compte Riot ?
Un compte Riot permettra aux joueurs, avec seulement un identifiant et un mot de passe, de se connecter à tous les jeux de Riot Games, de la même manière que la plateforme Battle.net pour les jeux Activision-Blizzard. Ce compte permettra également aux joueurs de se connecter sur n'importe quel serveur (y compris le PBE), et d'avoir accès à sa liste d'amis peu importe le jeu ou le serveur.
Comment changer son compte LoL en compte Riot ?
La procédure pour transformer son compte League of Legends en compte Riot est assez simple. Pour commencer, rendez-vous sur le site dédié à ce transfert.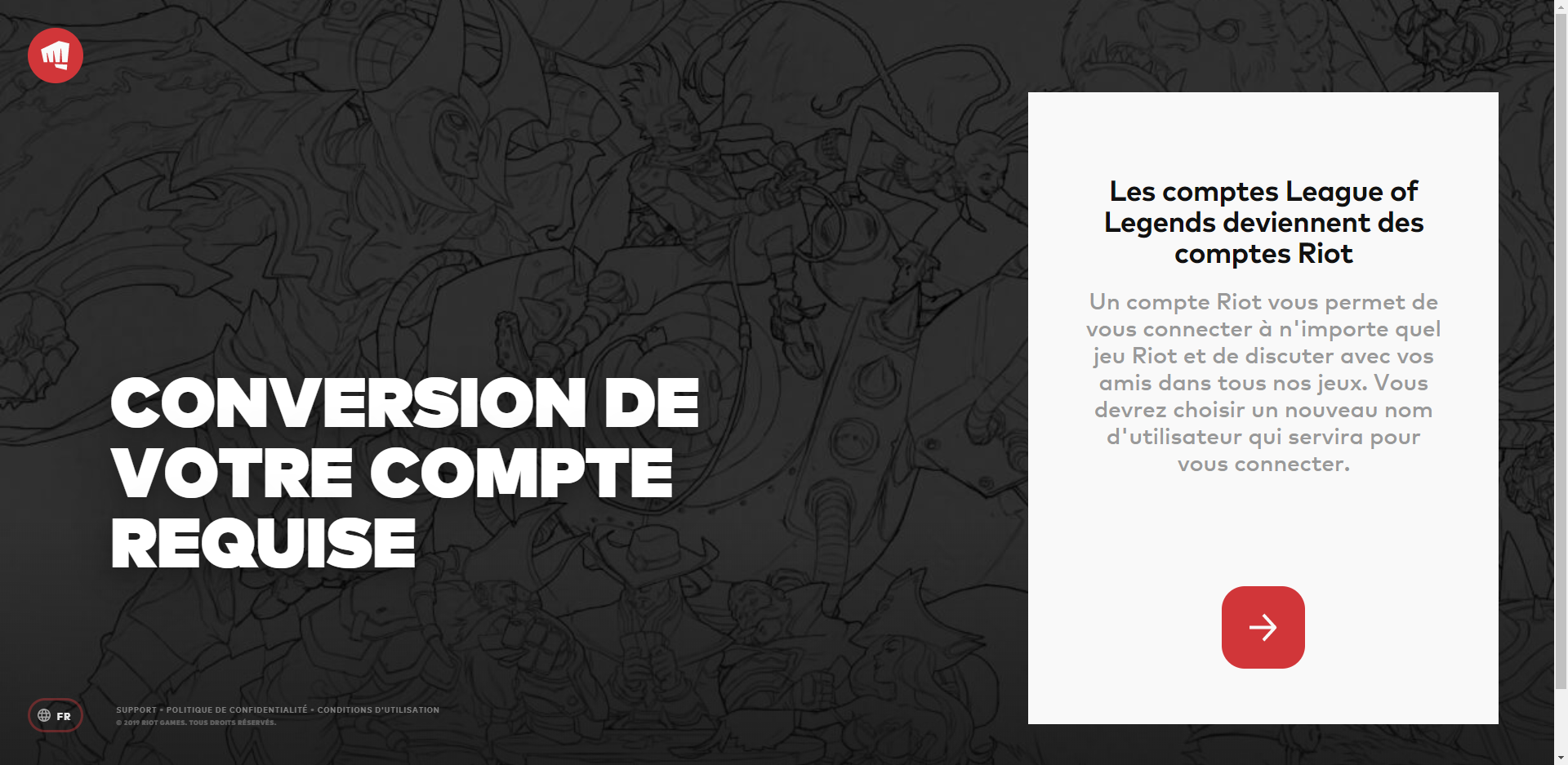 Une fois dessus, vous pouvez le mettre en français en bas à gauche, puis cliquez sur la flèche rouge pour vous identifier.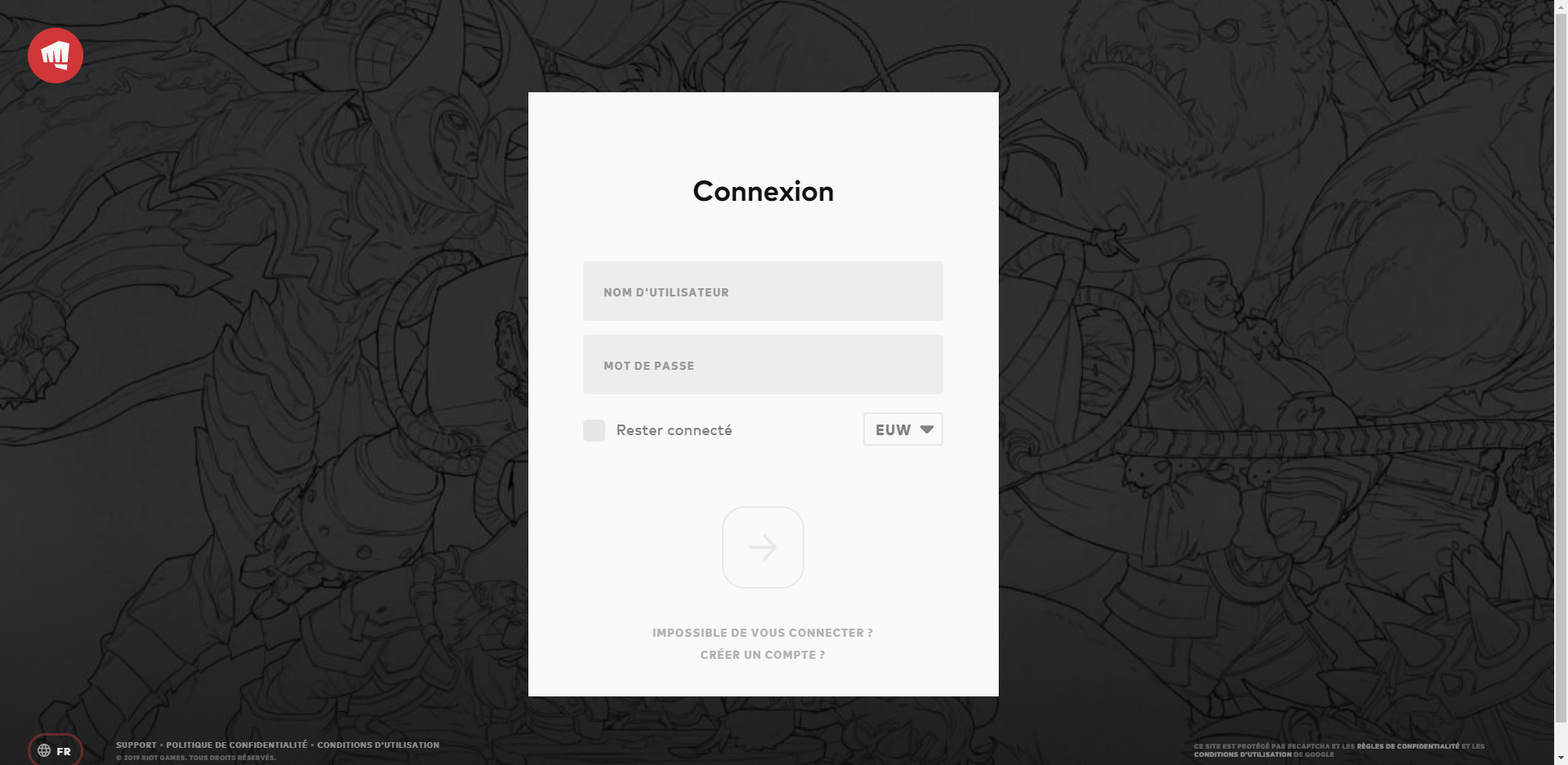 Ensuite, deux cas de figures sont possibles : soit votre nom d'utilisateur est déjà unique, auquel cas vous n'avez rien a changé et la procédure est terminée, soit il est utilisé par un autre joueur. Dans le deuxième cas de figure, vous devrez en choisir un nouveau qui ne soit pas déjà pris. Pour rappel, ce nom d'utilisateur n'est pas votre pseudo et pas affiché aux autres joueurs, il vous sert seulement d'identifiant pour vous connecter.
Vous devrez également remplir un captcha pour détecter que vous n'êtes pas un robot, puis valider. N'hésitez pas à noter votre nouveau nom d'utilisateur afin de ne pas l'oublier lorsque vous essaierez de vous connecter.
Le changement deviendra obligatoire le 22 janvier 2020
Il sera possible de se connecter à son compte LoL même sans avoir exécuté la procédure de changement jusqu'au 22 janvier 2020. A partir de cette date, vous ne pourrez plus vous connecter avant d'avoir changé votre compte LoL en compte Riot. Vous pourrez évidemment toujours changer votre identifiant à ce moment là si nécessaire.
C'est toutefois ce qu'a communiqué Riot Games, mais il semblerait que pour certains, comptes la nécessité de faire la procédure leur est déjà présentée lorsqu'ils essayent de connecter. Si c'est votre cas, nous vous invitons à le changer en suivant les différentes étapes décrites dans l'article.