Samira, le nouveau champion de League of Legends, vient de sortir. Découvrez les conseils de la rédaction pour jouer la Rose du désert en ADC !
Samira vient de sortir sur League of Legends. Voici notre guide pour le jouer au mieux sur la botlane en tant qu'ADC.
Quelles sont les forces et les faiblesses de Samira ADC ?
Forces
Mobile
Gros burst
Polyvalente
Bonne capacité de snowball
Faiblesses
Faible range d'attaque pour un ADC
Long CD sur son E et Z en early
Fragile
Quels sorts d'invocateur prendre avec Samira ADC ?
| | |
| --- | --- |
| | Saut éclair : Le Saut éclair permet tout autant d'engager un combat que de sortir d'une situation dangereuse. |
| | Soin : Incontournable chez les carrys AD, ce sort d'invocateur permet de régénérer votre santé ainsi que celle de votre support et de gagner de la vitesse de déplacement. Idéal pour fuir un gank ou tout bonnement y survivre. |
| | Purge : La Purge est une bonne option défensive si vous vous retrouvez contre des adversaires avec beaucoup de contrôles, comme une Leona ou un Nautilus. |
Runes et objets sur Samira ADC

Runes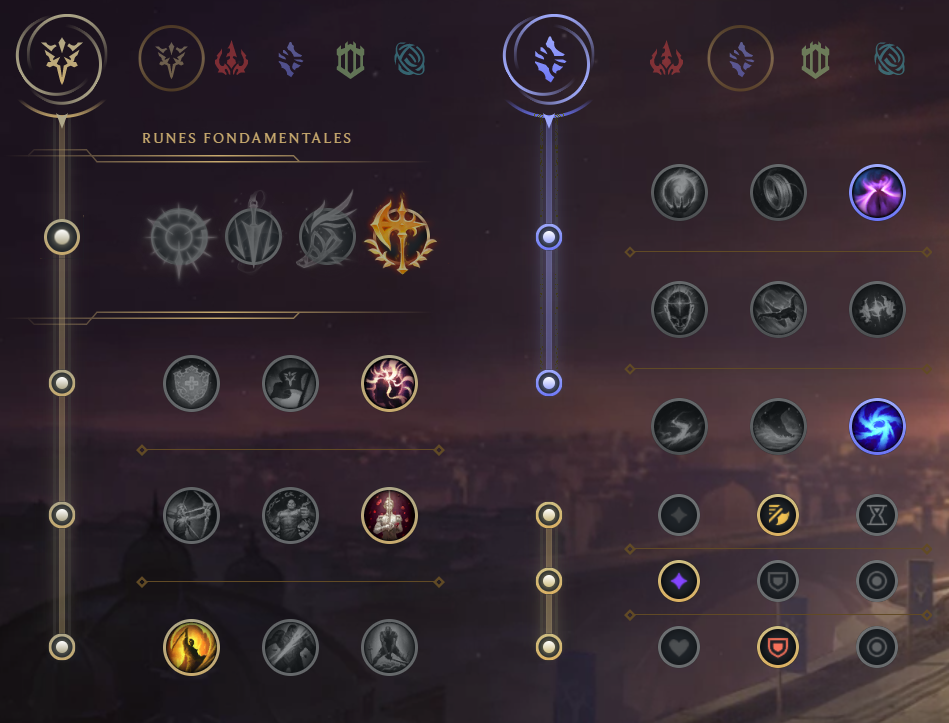 La rune fondamentale Conquérant est sans aucun doute le meilleur choix pour Samira. La Rose du désert stack facilement la runes quand elle all-in ce qui rend ses assauts encore plus redoutable. Présence d'esprit synergise bien avec le reset de Charge sauvage (E) après chaque élimination de champion.
En secondaire, l'arbre Sorcellerie avec les runes Manteau nuageux et Tempête menaçante est le plus intéressant pour lui donner de la mobilité et du scaling.
Afin de mieux gérer une phase de lane compliquée face à des champions qui profitent de votre faible portée d'attaque pour vous harass, la rune fondamentale Jeu de jambes est envisagable.
Objets





La Lame d'inifini offre un important pic de puissance offensif à Samira en augmentant considérablement ses dégâts. La Lame d'inifini est le meilleur choix en premier item car Samira profite peu de la CDR de la Faux spectrale car son Q et son R ont des CD très courts et que son E peut reset.
Samira est un carry qui s'expose beaucoup, la Danse de la mort ainsi que le Danseur fantôme permettent de de considerablement augmenter vos chances de survie en teamfight.
Derniers items possibles



Le Cimeterre Mercuriel est indispensable face à des champions tels que Leona et Malzahar. L'Ange Gardien vous offre un filet de sécurité face aux assassins. Rappel mortel est un must-have contre les équipes qui achètent de l'armure et les champions qui ont une importante régénération de vie.
Sorts : A > Z > E
Montez Panache (A) en priorité afin de réduire son CD au maximum. Ce sort vous sera très utile en phase de lane pour poke, trade ou encore last hit des sbires eloingnés sans prendre de risque.
Comment jouer Samira ADC ?

En phase de lane, Samira peut être une terreur comme une victime. Aux côtés de champions agressifs à l'image de Leona, Nautilus ou Swain, la Rose du desert va s'imposer naturellement grâce sa capacité à suivre les engages et à son burst dévastateur.
Mais elle peut également se faire totalement bully à cause de sa faible portée d'attaque par d'autres carry ou des support tel que Lux, Janna ou encore Lulu. Pour tenir face aux lanes qui tentent de vous deny, prenez la rune Jeu de jambes et utilisez Panache (A) pour last hit des sbires éloignés sans vous exposer au poke adverse.
Tourbillon de lame (Z) est votre seul sort défensif et il possède un long CD (30 seconde au rang 1), donc utilisez-le judicieusement pour deny un sort important, comme par exemple un grab. Méfiez-vous également de champion qui ont des contrôles faciles à placer tel que Sett, Alistar ou encore Pantheon car ils peuvent facilement punir vos mauvais placements.
En millieu et fin de partie, votre passif vous permet de suivre instantanément les engages de vos alliés. Afin d'eviter de vous faire catch rester loin des adversaires et attendez que vos alliés contrôle un champion adverse pour utilisez votre passif afin de rentrer dans le combat.
En teamfight, Samira est à mis chemin entre un tireur et un assassin en mélée. Dans un premier temps contentez vous de vous battre à distance en alternant entre attaque automatique et Panache (A) afin de monter votre jauge de style. Puis une fois que l'opportunité s'offre à vous, rentrez dans la mélée tout en continuant d'alterner sort et AA pour atteindre le rang S et ainsi pouvoir utiliser Gâchette infernale (R).