Lillia , le nouveau champion de League of Legends, vient de sortir. Découvrez les conseils de la rédaction pour jouer la Fleur timide sur la midlane !
Lillia devrait sortir aux alentours mercredi 22 juillet. lors du patch 10.15 de League of Legends. Voici notre guide pour la jouer au mieux sur la midlane.
Quelles sont les forces et les faiblesses de Lillia mid ?
Forces
Bon wave clear
Très mobile
Gros burst
Efficace en escarmouche
Bon snowball
Faiblesses
Capacité d'initiation limitée avant le niveau 6
Sa faible portée couplée à peu d'outils défensifs l'oblige à s'exposer
Sa mobilité dépend du passif du A
Peu d'outils de comeback
Quels sorts d'invocateur prendre Avec Lillia mid ?
| | |
| --- | --- |
| | Saut éclair : Le Saut éclair permet tout autant d'engager un combat que de sortir d'une situation dangereuse. |
| | Embrasement : Idéal pour un début de partie agressif et pour empêcher la régénération de vie de vos adversaires. |
| | Barrière : La Barrière vous permettra de survivre aux dégâts instantanés de certains champions. |
| | Téléportation : Durant le début de la partie ce sort d'invocateur vous permet de revenir rapidement sur votre voie toutes les 5 minutes puis une fois la phase de lane terminée il vous permet de rejoindre vos alliés à tout moment. |
Runes et objets sur Lillia mid

Runes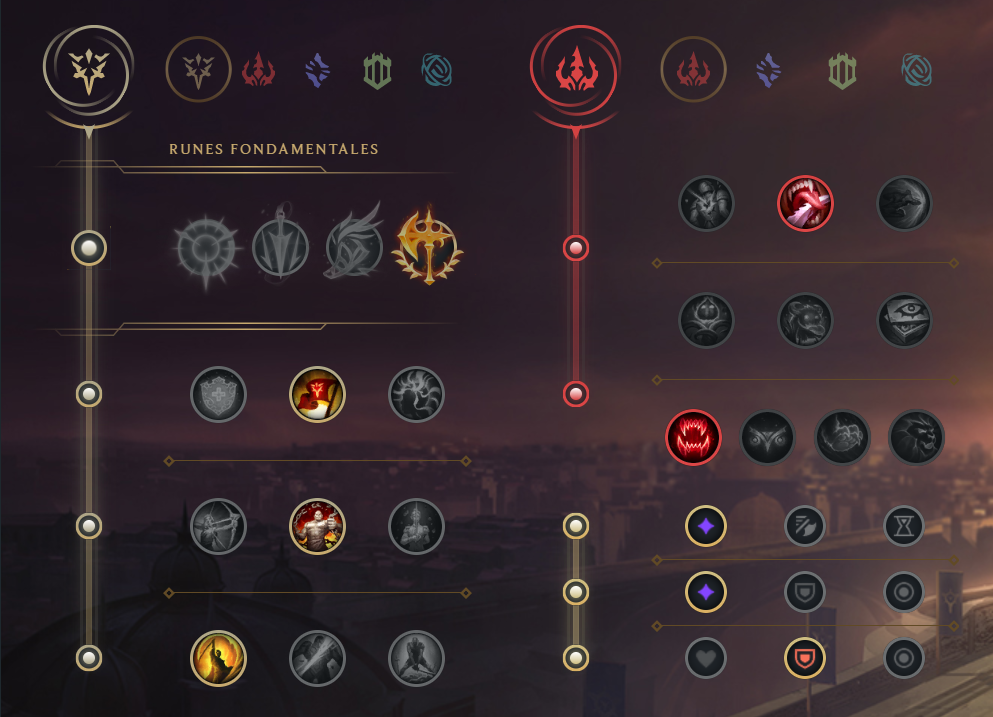 Objets





Le Tourment de Liandry permet d'être plus efficace dans les longs combat et face au tanks et autres bruisers. Le Baton séculaire ainsi que l'actif du Sablier de Zhonya apportent de la sécurité à Lillia pour resister en cas de focus. Le Sceptre de Rylai de son côté, reforce le kiting du faon.
Sorts : A > Z > E
Frappe fleurie est le sort le plus important du kit de Lillia. Montez-le en priorité afin de d'augmenter ses dégâts ainsi que le bonus de MS octroyé par le passif. Montez par la suite le Z pour réduire son CD et augmenter ses dégâts.
Comment jouer Lillia mid ?

Au premier abords, le gameplay de Lillia semble simple mais en réalité, chacun de ses sorts a une particularité qu'il faudra prendre en main :
Frappe fleurie (A) inflige des dégâts bruts supplémentaires aux ennemis en bordure de zone.
Lorsqu'elle lance Attention, désolée ! (Z) Lillia charge son attaque pendant 0.75 secondes et ne peut pas bouger ni annuler son cast.
Graine tournoyante (E) est dans un premier temps lancée en l'air puis s'il n'y a pas d'unité ennemie ou d'obstacle au point d'impact du sort il roule sans limite de distance jusqu'à entrer en collision avec un ennemi ou un obstacle.
Dans les affrontement à courte portée il est plus sûr de lancer le E à ses pieds afin de faire rouler la graine directement afin d'éviter de la lancer par dessus votre cible. Il est préférable de ne pas utiliser Graine tournoyante (E) sur les camps. Il sera plus intéressant de le garder pour vous défendre en cas d'invade, scout les buissons et le brouillard de guerre ou encore utiliser sa portée illimité pour aider sur une action éloignée.
En phase de lane, Lillia est à l'aise face aux champions corps à corps car elle peut facilement les zoner avec Frappe fleurie et les poke avec Graine tounoyante (E).
Lilla obtient facilement la priorité en lane grâce à son exellent wave clear. Cela lui permet de profiter de sa mobilité pour roamer à outrance afin de venir en aide à son jungler ou bien de gank les sidelanes. Avec Douce berceuse (R) Lillia peut initier des escarmouches ou temporiser l'arrivée de son équipe en endomissant les champions affectés par son passif et cela sans limite de portée.
En millieu de partie, Lillia va scale et sera efficace en teamfights grâce à ses nombreux dégâts de zone et sa vitesse de déplacement, la Fleur timide est une véritable fusée quand elle parvient à stacks le passif de son A, un cauchemar à affronter pour les champions à skillshots. Quand elle snowball, Lillia peut facilement punir les mauvais placements avec sa mobilité ainsi que son combo E > R.
La Fleur timide peut profiter de son bon wave clear pour push les sidelanes dans le but de forcer des rotations. Le passif de son A lui permettra par la suite de se replacer rapidement et d'échaper aisaiment aux tentatives de catchs.
Les 2 principaux sorts de DPS (Q et Z) de Lillia ont une portée relativement faible, un bon sens du placement ainsi qu'une maîtrise du kiting seront requis afin de survivre en teamfight. Cette faible portée la met également en grande difficulté face au champions avec des engages rapides ou des gros contrôles, ce qui rend les espoirs de comeback plutôt mince contre les équipes qui ont l'avantage.