Un joueur vient d'atteindre le palier master sur Legends of Runeterra. Pokrovac est le premier à arriver dans la plus haute division des ranked sur le ladder européen. Pour l'instant, aucun autre joueur sur les autres serveurs n'ont réussi à franchir ce palier.
Moins d'une semaine après le début de la bêta ouverte de Legends of Runeterra, un joueur a déjà réussi à atteindre le palier maître sur le ladder. Mikulas « Pokrovac » Dio, jouant sur le serveur européen, vient en effet d'arriver à ce dernier rang cette nuit.
Premier master tout serveur confondu
Alors qu'il avait été le deuxième à accéder au rang diamant lundi dernier, il aura mis environ une journée pour passer ce tier et monter sur les sommets du ladder. Sur sa progression, il indique notamment avoir réussi à arriver platine en cumulant 44 victoires pour 14 défaites avec un deck qu'il a créé de toute pièce. Il faut dire que le Russe est un familier des TCG en ligne. Il a notamment participé aux HCT sur Hearthstone pendant la saison 2018-2019. En plus d'avoir un excellent niveau sur les jeux de cartes, il est aussi challenger sur TFT. Bref, le haut-niveau, il le connaît bien.
Le tweet d'annonce du joueur.
Pour l'heure, aucun autre joueur n'a atteint le rang maître, tout serveur confondu. Les serveurs Amérique et Asie devraient connaître leurs premiers maîtres dans les heures ou les jours à venir.
Les decks utilisés par pokrovac pour atteindre le rang maître
Le joueur vient de publier sur Mobalytics 5 de ses decks qui lui ont permi d'atteindre le palier maître. Fait intéressant, 4 des 5 decks sont des decks aggros.
Deck Noxus / îles oubliées avec Elise et Darius de pokrovac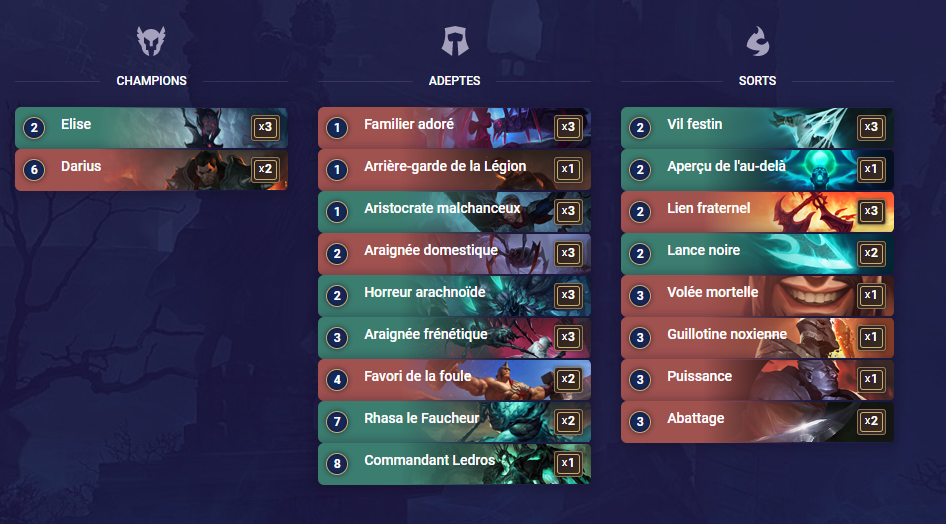 Code du deck : CEBAGAIDB4MTOBIBAUTSQKZVHABAEAIFEIRQGAIDAQESMAQCAECSCMIEAEBQWDATCY
Deck Frejlord / Ionia avec Braum et Zed de pokrovac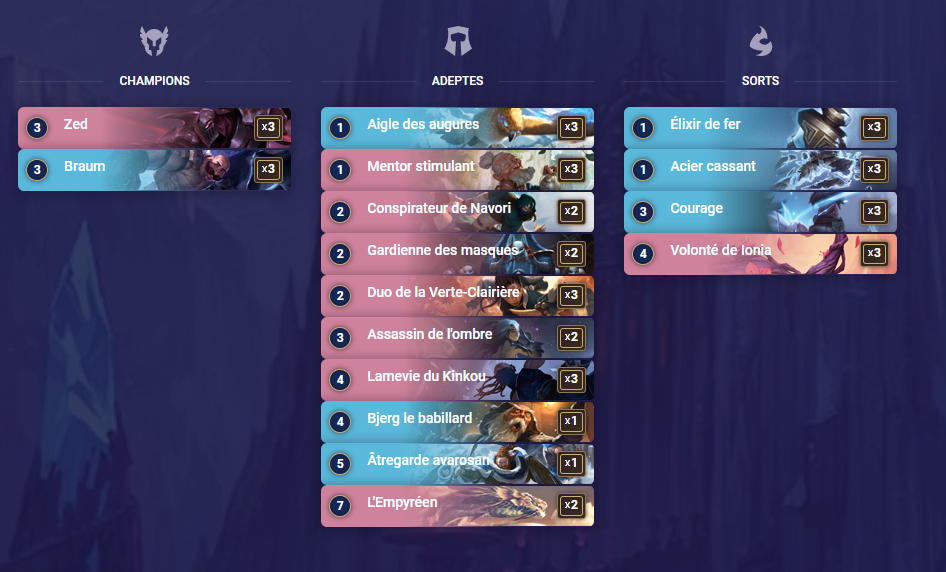 Code du deck : CEBAKAIBAQERMHROAUAQEAQGBENCQAIEAEBBIHRMHEAQEAIBA4UQ
Deck Frejlord / îles oubliées avec Braum et Tryndamere de pokrovac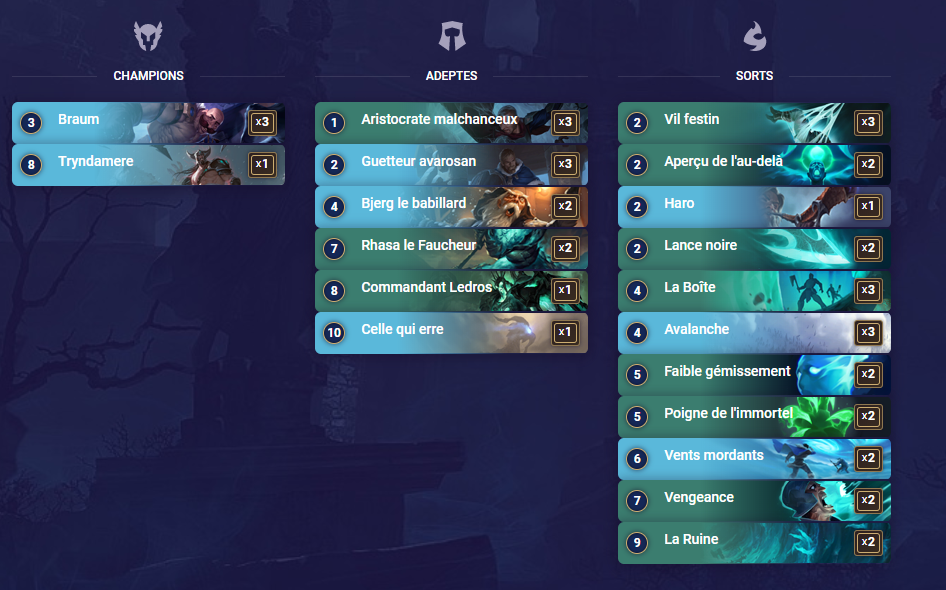 Code du deck : CEBAGAIFCMUCWAYBAEBQSFACAIAQCBZKA4AQKAIPDURCGMJWAIAQCBJBAMAQCHJHGQ
Deck Demacia / îles oubliées avec Elise de pokrovac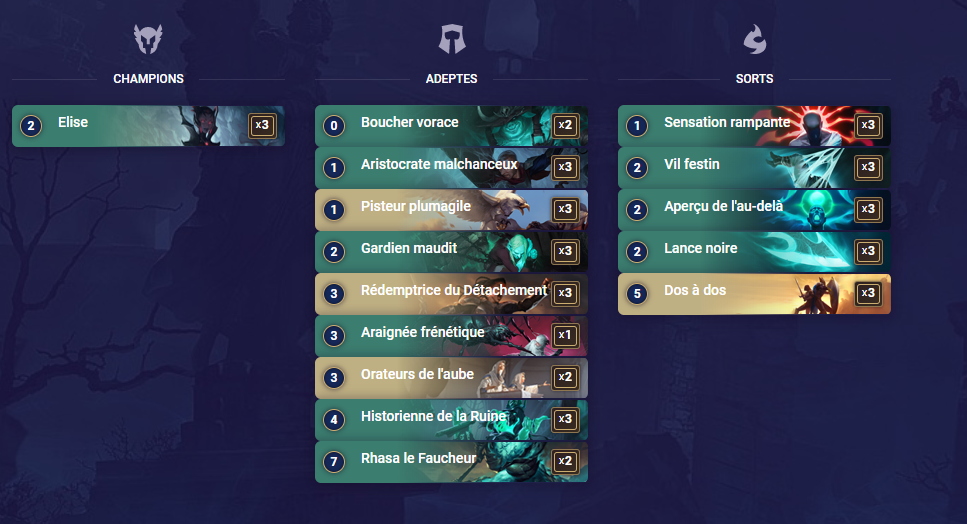 Code du deck : CEBAGAIADUUTMCABAUQCEJBIFMYDCNICAEAQAHYCAECQWIYBAEAQKOA
Deck Piltover & Zaun / Noxus avec Draven, Jinx et Darius de pokrovac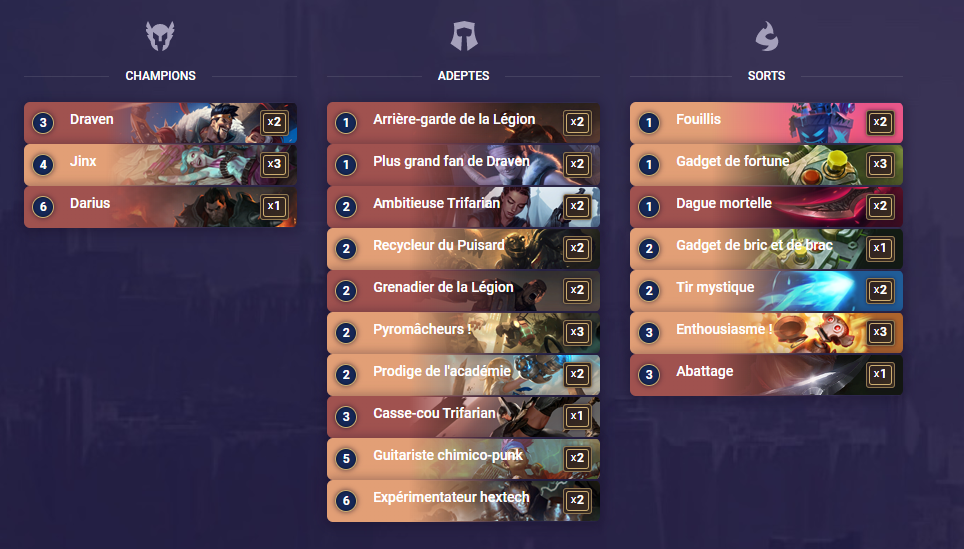 Code du deck : CEAQIAIEBQOCOKACAYAQGDAUD4RSKKYGAECACDISEYWDIAQBAECDSAYBAMCBUJQ
Si vous souhaitez suivre les classements de ce rang, Mobalytics propose un tracker qui vous indiquera, en temps réel, le nombre de masters ainsi que leurs points.