Le nouveau jeu de carte de Riot Games, Legends of Runeterra, pourrait fonctionner le marché des différents TCG, avec un modèle économique unique.
Riot a annoncé ce mercredi 16 octobre la sortie imminente de son jeu de cartes virtuel : Legends of Runeterra. Parmi les aspirations du studio californien, celle sur laquelle ils ont le plus communiqué est le fait de vouloir créer un TCG abordable, là où ce type de jeu a tendance à coûter beaucoup d'argent si les joueurs souhaitent avoir un maximum de cartes.
Legends of Runeterra, un jeu F2P
Tout d'abord, à la différence d'un jeu comme Artifact, Legends of Runeterra sera entièrement Free to play. Les joueurs pourront débloquer des cartes en se connectant régulièrement et en jouant, ce qui complètera des quêtes et leur donnera de l'expérience et des récompenses régulières.
Puisqu'il existe 6 régions, chacune ayant ses propres cartes et son style de jeu, les joueurs pourront en choisir une afin que leur avancée dans les récompenses leur permette de débloquer les cartes de cette région en particulier. Ils pourront évidemment changer de région à tout moment s'ils souhaitent essayer un nouveau deck.
En outre, les joueurs débloqueront un coffre chaque semaine, qui contiendra de nombreuses cartes. Plus le joueur aura joué durant la semaine, plus le coffre proposera de récompenses intéressantes.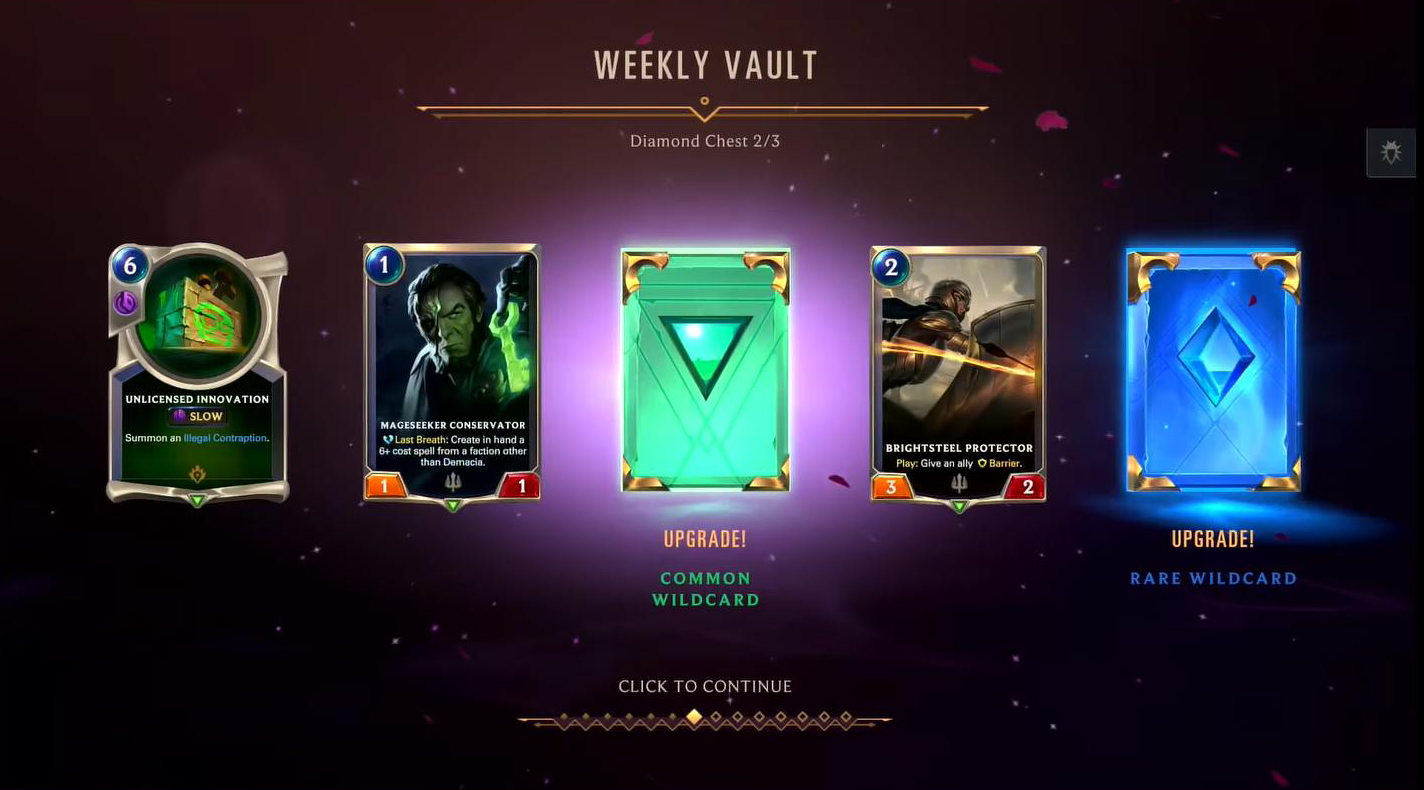 Si vous jouez régulièrement, les récompenses hebdomadaires devraient être très importantes.
Pas de paquets avec des cartes aléatoires
Pour débloquer des cartes, vous n'aurez pas à passer par des paquets qui donnent des cartes aléatoires jusqu'à trouver la bonne. A la place, vous débloquerez des fragments, qui vous permettront de construire les cartes de votre choix (similaire à la Poussière sur Hearthstone). En outre, vous obtiendrez de temps en temps des cartes Joker, comme sur Magic the Gathering, qui peuvent se transformer en n'importe quelle carte de rareté équivalente de votre choix.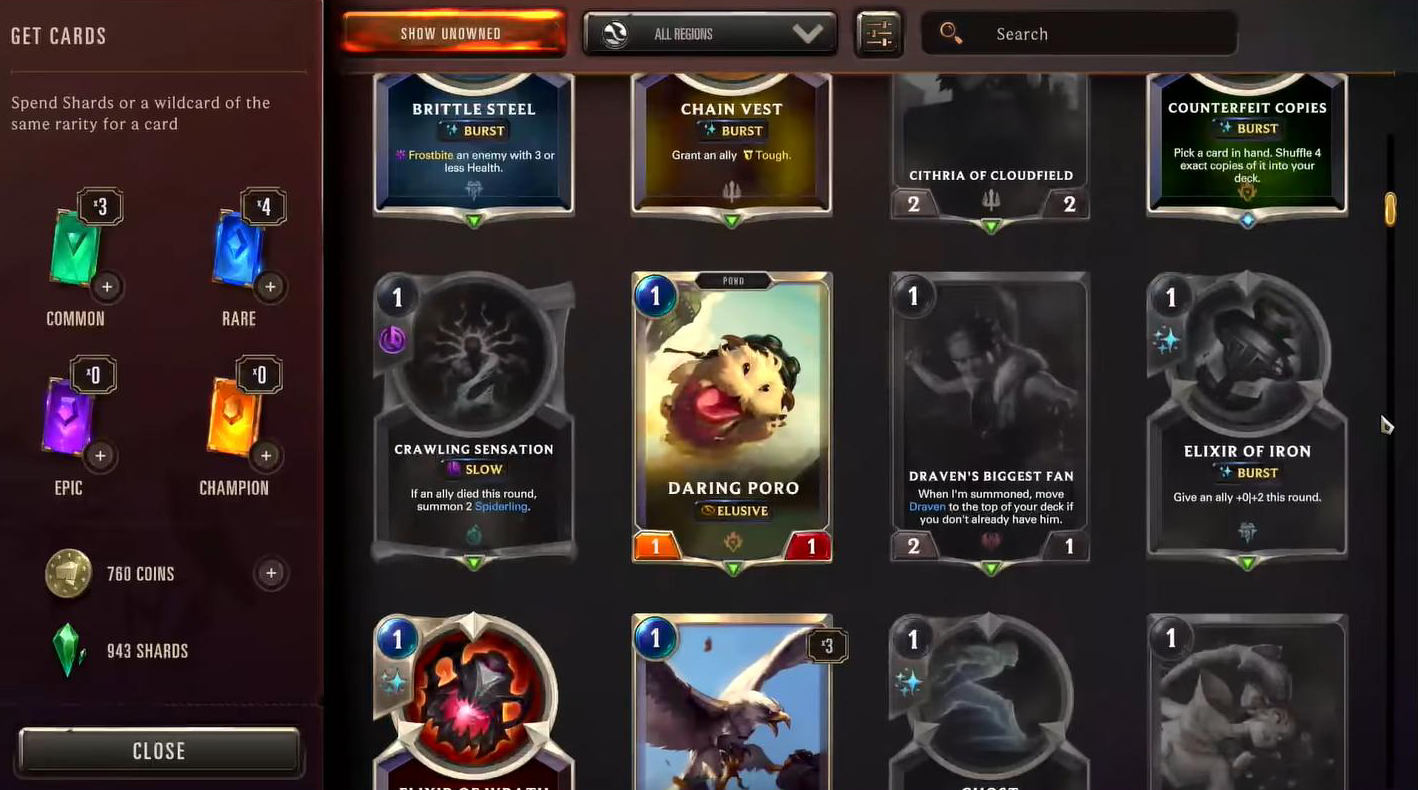 Comme sur les autres jeux de cartes, il existe 4 niveaux de raretés pour les cartes, du moins cher au plus cher : Commune, rare, épique et enfin les champions.
Il est toutefois possible de dépenser de l'argent réel pour débloquer des cartes. Vous pourrez alors acheter des pièces qui s'échangeront contre les cartes que vous souhaitez, sans avoir à dépendre de la chance en ouvrant un booster aléatoire.
Un jeu qui se veut moins cher que ses concurrents
Outre les cartes, il sera possible d'acheter des objets cosmétiques avec de l'argent réel, comme des plateaux personnalisés ou des avatars différents. Cette source de revenue supplémentaire devrait permettre à Riot Games de rendre le jeu bien plus abordable qu'un concurrent comme Hearthstone par exemple, qui ne dépend quasiment que de la vente de paquets pour générer des profits.
Le studio californien a insisté sur ce fait dans sa communication sur la sortie du jeu : ils essaieront de le rendre le plus abordable possible. Legends of Runeterra devrait être jouable sans avoir à dépenser un seul euro si vous n'en ressentez pas l'envie, bien qu'il soit possible d'obtenir plus de cartes et ainsi d'essayer davantage de decks en sortant la carte bleue.