Vous souhaitez gagner du temps pour obtenir votre XP quotidienne ? Affrontez un ami ! Vous pouvez également laisser votre pseudo Riot en commentaires pour trouver des gens avec qui utiliser cette astuce.
Si le système d'expérience, et donc d'obtention de cartes, de Legends of Runeterra est très généreux, il demande toutefois de jouer quelques parties tous les jours afin d'optimiser ses récompenses. Il est toutefois possible d'optimiser son gain d'XP en abusant des défis avec des amis.
Nous vous avons déjà fait un guide expliquant les meilleurs moyens d'optimiser ses récompenses de régions, voici une astuce pour ceux qui n'ont pas beaucoup de temps à allouer au jeu tous les soirs afin de gagner des minutes précieuses tout en allant facilement chercher son coffre hebdomadaire niveau 13.
Faire des défis avec ses amis pour gagner de l'XP rapidement sur Legends of Runeterra
L'astuce est plutôt simple : vous gagnez autant d'expérience en remportant une partie normale, classée ou simplement un défi avec un ami. Dans cette optique, il est possible de faire des défis en boucle avec un ami, avec l'un des deux joueurs qui abandonne instantanément la partie à chaque fois pour que les deux obtiennent de l'XP. Pour abandonner, appuyez sur Echap et cliquez sur le bouton Capitulation.
Evidemment, les récompenses d'XP quotidiennes sont dégressives, ce qui fait qu'il n'est pas possible d'abuser de cette technique pendant des heures pour de l'expérience infinie. Il est toutefois possible de rapidement accumuler beaucoup d'expérience avec cette astuce. Pour savoir exactement quels sont les différents paliers d'XP selon le nombre de parties jouées par jour, nous vous renvoyons vers notre article dédié.
Ainsi, en seulement quelques minutes, vous devriez facilement pouvoir récolter quelques milliers d'XP chaque jour, avant de rendre la pareille à votre ami.
Trouver des amis avec qui farmer l'XP sur Legends of Runeterra
Si vous n'avez pas d'amis disponibles pour utiliser cette astuce, nous vous proposons de mettre vos pseudonymes en commentaire afin de vous ajouter mutuellement et de faire ça ensemble. Cela pourrait également être l'occasion de rencontrer de nouveaux compagnons de jeu ! Pour ajouter des contacts via Legends of Runeterra, rien de plus simple.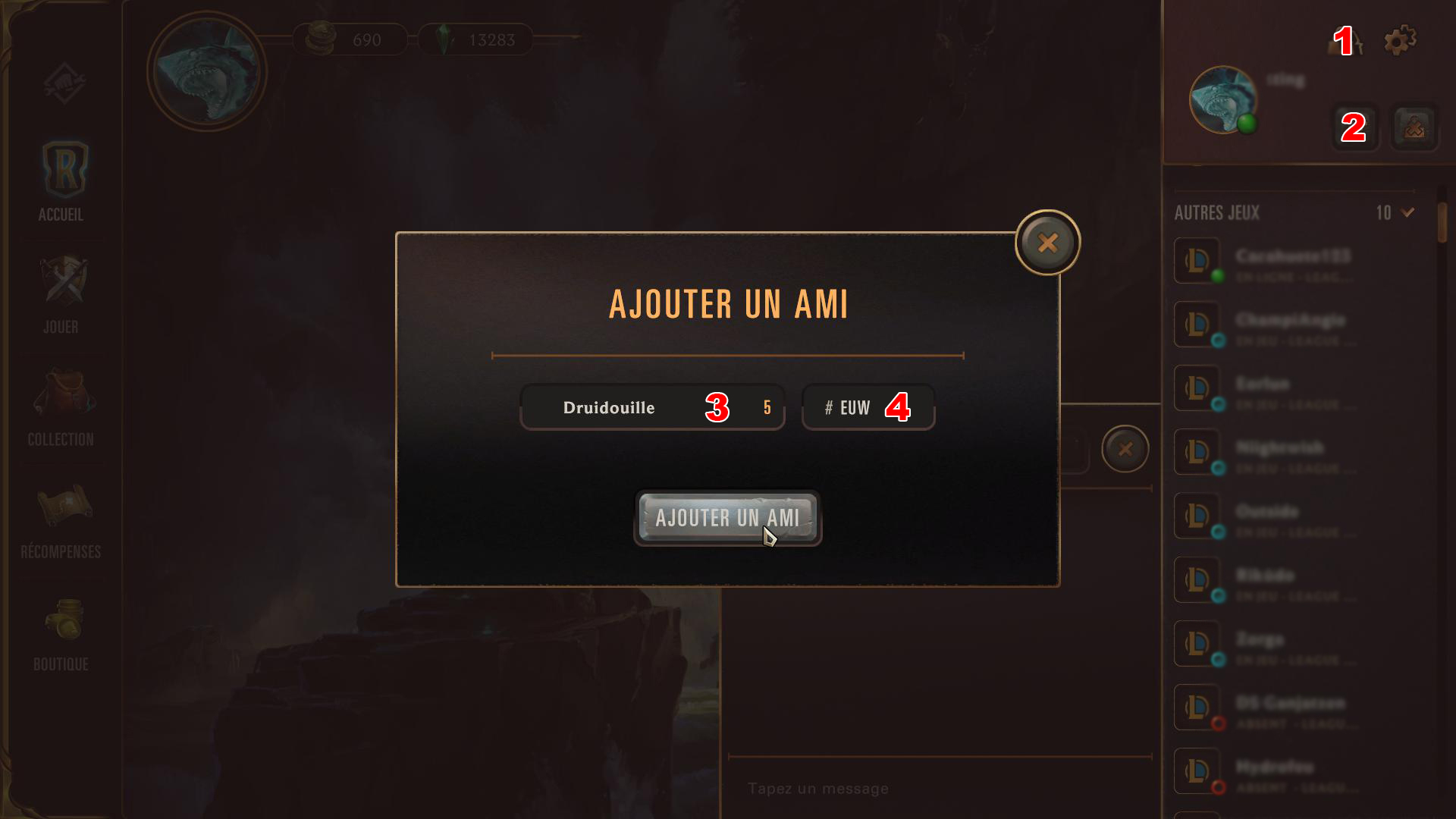 Cliquez sur l'icône Social (1) en haut à droite, puis sur l'icône Ajouter un ami (2). Ici, entrez le pseudo (4) de la personne que vous souhaitez ajouter, ainsi que le serveur (5) sur lequel elle joue (généralement EUW si vous êtes en France, NA en Amérique du Nord...).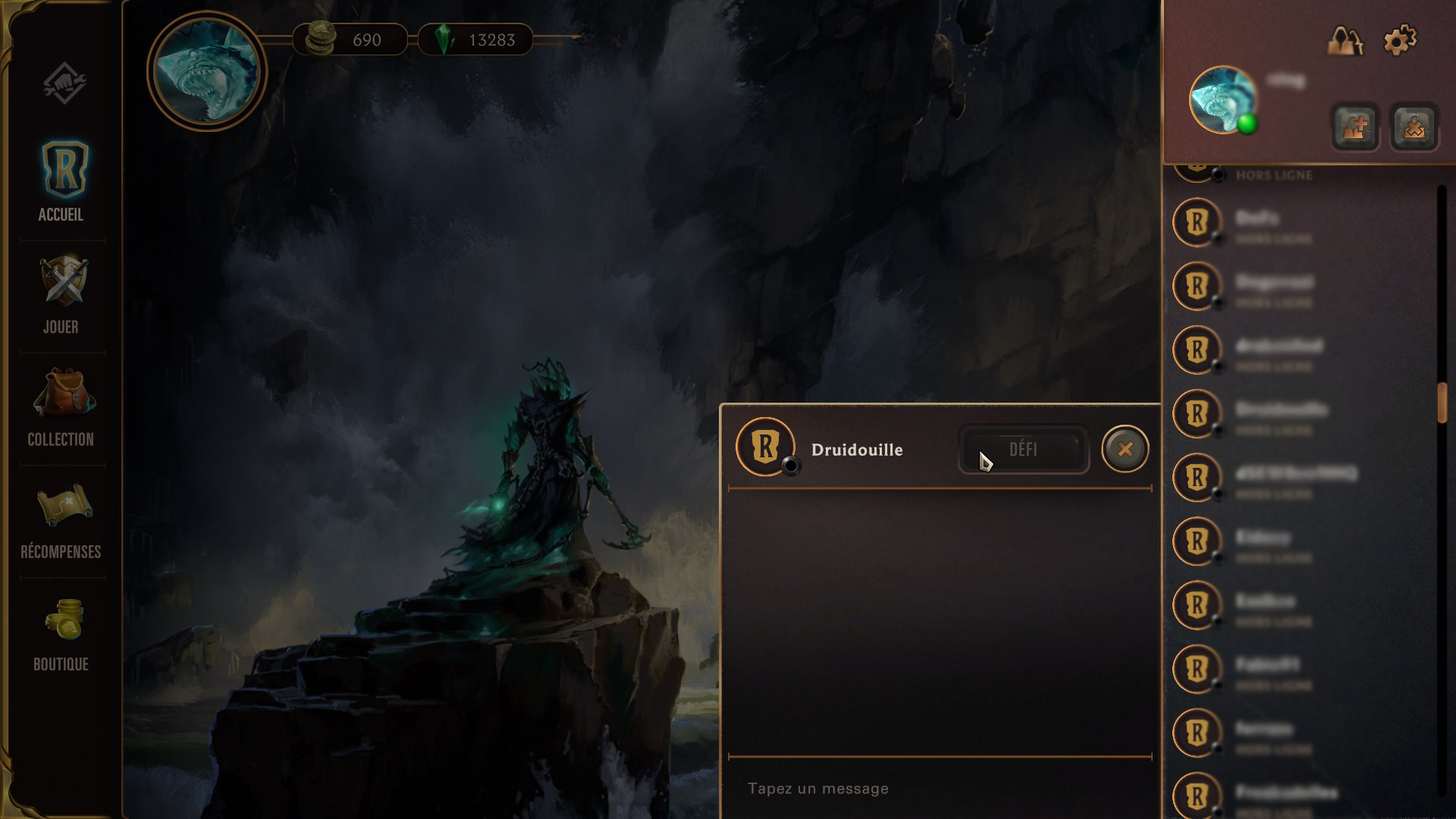 Ensuite, vous n'aurez plus qu'à cliquer sur le pseudo de la personne dans votre liste d'amis, puis cliquer sur le bouton Défi. Vous pourrez alors choisir votre deck (ce qui importe peu si vous comptez simplement abandonner à chaque fois), et lancer la partie.
Si vous cherchez des gens avec qui jouer, n'hésitez pas à laisser votre pseudonyme et le nom de votre serveur en commentaires afin de vous entre-aider. Bon farm à tous !