Vous souhaitez obtenir un maximum de cartes pour Legends of Runeterra ? Suivez le guide afin d'optimiser votre farm et ainsi débloquer tous les decks.
Débloquer un maximum de cartes sur Legends of Runeterra sera l'un de vos premiers objectifs lorsque vous débuterez. En effet une fois les phases de tutoriel passées, vous allez pouvoir constituer votre propre deck afin de défier d'autres joueurs en parties normales ou classées. Bien évidemment, plus vous aurez de cartes plus votre éventail de choix sera élevé et vous aurez accès à un grand nombre de combinaisons.
Petite particularité ici avec LoR, les cartes ne sont pas disponibles dans des boosters, achetables avec de la monnaie in-game ou réelle, mais elles doivent être farmées dans les différents modes de jeu que propose le titre. Il va falloir jouer assidûment pour compléter rapidement votre collection.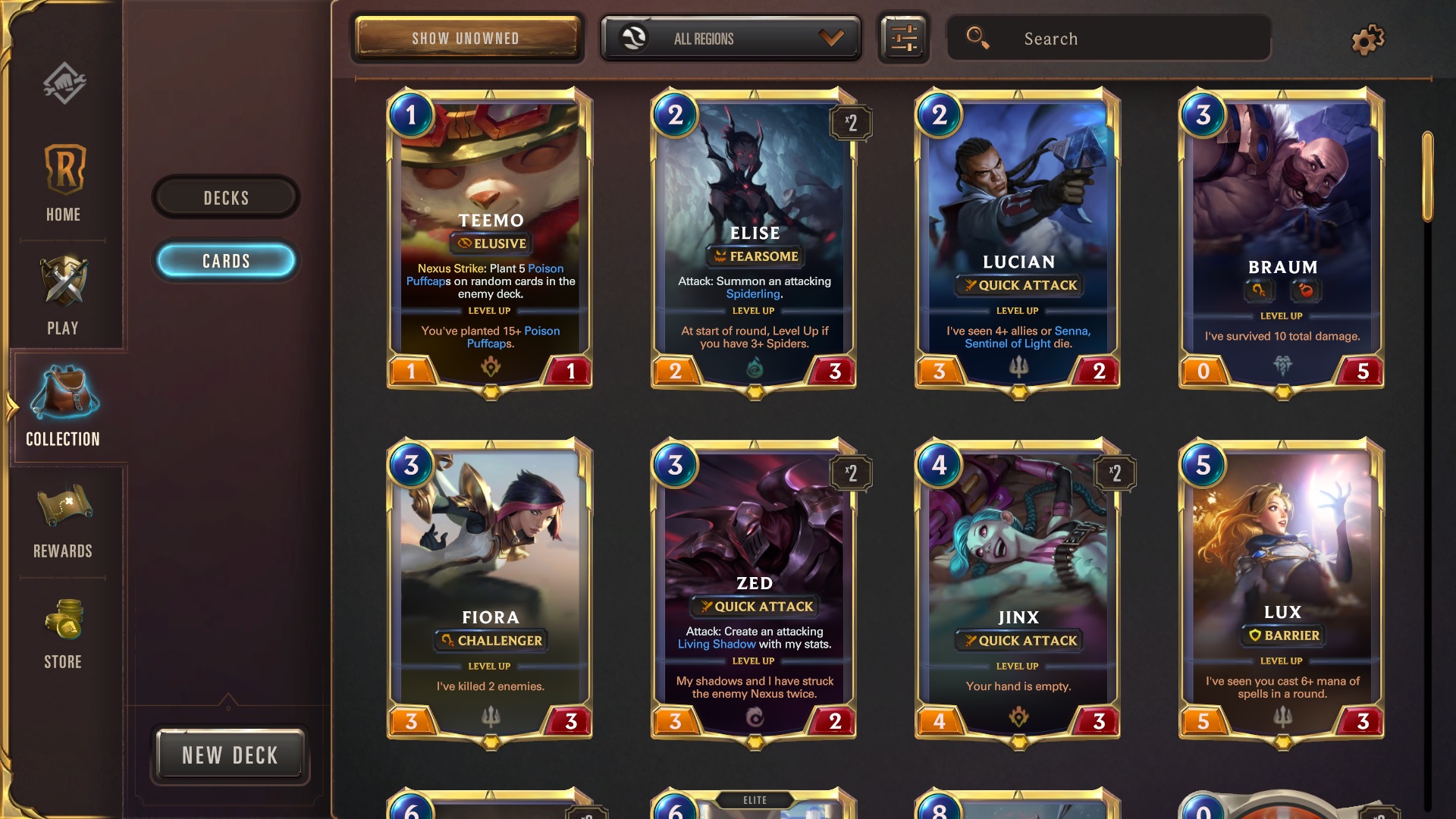 Prêt à démarrer votre collection ?
Voici tous les modes d'obtention de cartes qui seront disponibles en jeu.
Obtenez des cartes grâce aux coffres et capsules de LoR
Dans votre progression sur Legends of Runeterra, vous obtiendrez des coffres et capsules qui vous permettront de récupérer des cartes. De façon générale ces récompenses peuvent être obtenues dans tous les modes de jeu en engrangeant de l'expérience pour votre coffre hebdomadaire, en faisant progresser vos régions ou en participant aux expéditions.
Obtenez des cartes grâces aux expéditions de LoR
Le mode expédition de Legends of Runeterra est un mode « draft » où vous composerez un deck spécial afin d'affronter d'autres joueurs. Votre but sera d'enchainer un maximum de victoires qui influeront sur vos récompenses.

A la fin de votre périple, vous obtiendrez des coffres, des capsules et des essences nécessaires afin de récupérer de nouvelles cartes. Surtout, quelle que soit votre performance, vous êtes assuré de repartir avec au moins une carte champion !
Récupérez des cartes grâce aux essences gagnées
Comme dans beaucoup de jeux de carte en ligne, il est impossible d'échanger les cartes dont vous disposez de trop d'exemplaires. Cependant il est possible de les convertir en essences, une monnaie en jeu qui vous permettra de craft de nouvelles cartes.
En plus de la destruction de cartes excédentaires, il sera possible de gagner des essences dans des coffres mais aussi grâce aux expéditions. Enfin, vous pourrez également acheter des Essences avec de l'argent réel, en les échangeant contre des Pièces, la monnaie en jeu qui n'est disponible qu'en faisant chauffer la CB !
Utilisez vos cartes jokers de Legends of Runeterra
Les cartes jokers sont une particularité de Legends of Runeterra. Elles disposent en effet d'un niveau de rareté et peuvent être échangés contre n'importe quelle carte du jeu de même rareté. C'est en quelque sorte l'équivalent du bloc de lettre vide du Scrabble, ou des Jokers de Magic the Gathering Arena.
Ces derniers peuvent également être achetés avec de la monnaie réelle. Mais si vous ne comptez pas mettre la main au portefeuille, pas de soucis, vous pourrez aussi en débloquer régulièrement en jeu
Du farm, du farm et encore du farm ! Si vous voulez atteindre les sommets du ladder il va falloir être assidu afin de débloquer un maximum de cartes !