Qu'est-ce qui se cache derrière Marée montante, la toute première extension de Legends of Runeterra (LoR) ?
Legends of Runeterra sort officiellement sur mobile le 30 avril mais avant, il y a sa toute première extension : Marée montante. L'extension sera disponible à partir de 19 h le mardi 28 avril 2020. Mais si vous souhaitez prendre de l'avance afin de savoir ce qui vous attend, voilà tout ce que vous devez savoir sur Marée montante !
Bien évidemment, ces informations sont issues des différentes annonces officielles de Riot Games, notamment le patch note 1.0 (source en français).
Les nouveautés de l'extension Marée montante
Un visuel vaut 1 000 mots et ça, Riot Games l'a bien compris ! L'éditeur a décidé de proposer une image récapitulant les nouveautés de l'extension.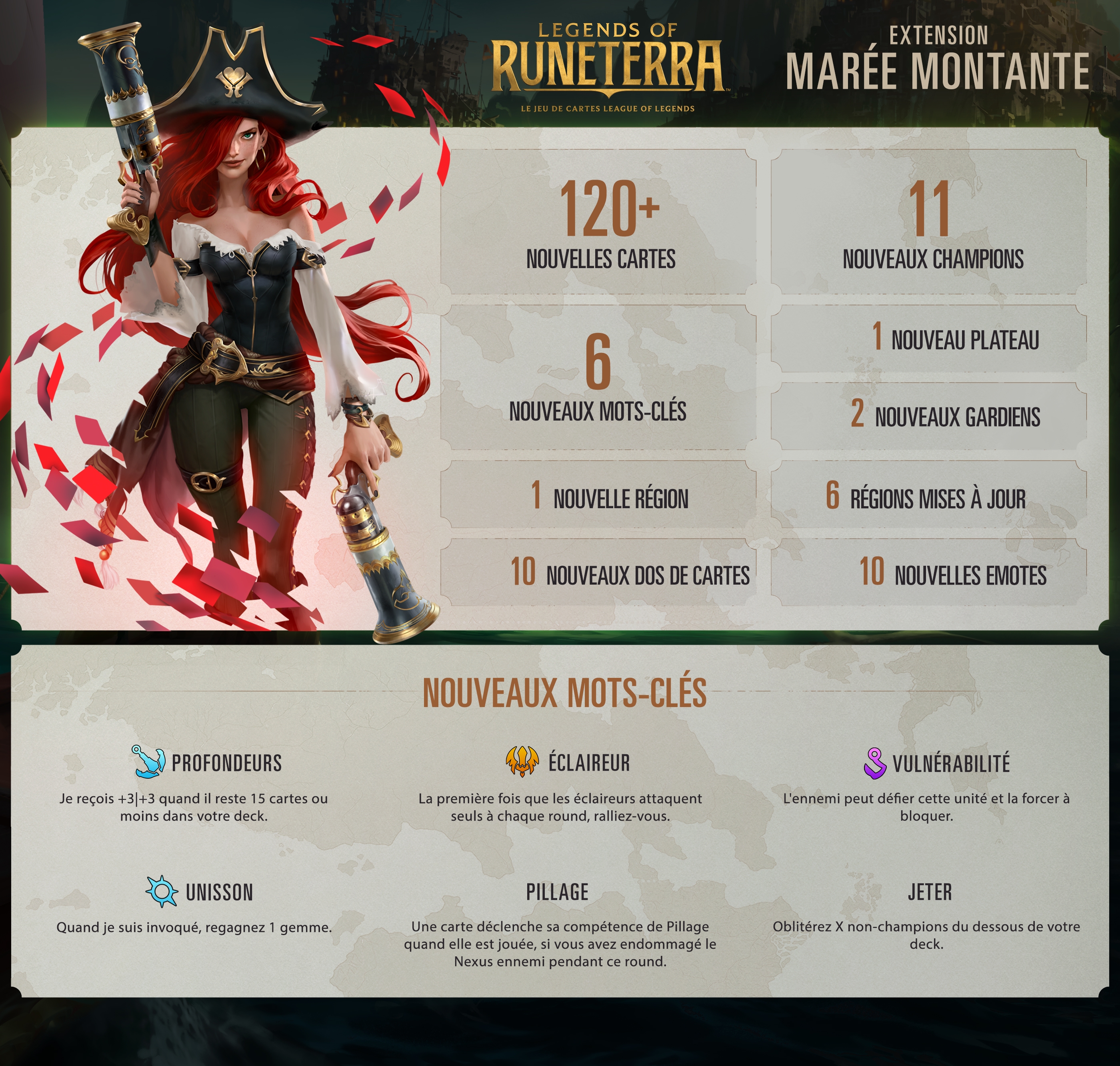 Comme vous pouvez le voir, il va y avoir pas mal de nouveautés avec cette extension :
120+ nouvelles cartes
11 nouveaux champions
6 nouveaux mots-clés
6 régions mises à jour
et une tonne de cosmétiques supplémentaires
Les nouvelles cartes de Legends of Runeterra avec Marée montante
Comme vous avez pu le lire, il a plus de 120 nouvelles cartes dans le jeu avec cette extension. Nous vous les avons listé complètement dans un article à part si vous êtes curieux des nouveautés pour Demacia, Ionia et les autres !
Pour rappel, l'extension arrive ce mardi 28 avril aux alentours de 19 h (heure française). Il y aura bien évidemment une mise à jour du jeu puis chaque joueur pourra découvrir les nouveautés de Marée montante !