Selon un revendeur espagnol Red Dead Redemption 2 pourrait avoir une version Switch pour 2020.
Après avoir déployé une mise à jour de Noël mais aussi du nouveau contenu pour le mode Online de Red Dead Redemption 2 Rockstar Games pourrait se diriger vers la Nintendo Switch pour son jeu Far West. C'est en effet ce que semble indiquer un site de vente de clés numériques espagnol. De plus ce portage sur la console de Nintendo pourrait voir le jour en 2020.
Red Dead Redemption 2, une version Nintendo Switch pour 2020 ?
La nouvelle peut sembler surprenante mais cela pourrait bien se concrétiser. Red Dead Redemption 2, le GTA 5 du Far West, pourrait bénéficier d'un portage sur Switch durant l'année 2020. C'est en tout cas ce que semble indiquer Tez2 sur Twitter en relayant un lien dirigeant vers la page Instant Gaming espagnole. La première réaction face à une telle rumeur est probablement la surprise étant donné que Rockstar Games s'est toujours tenu à l'écart des consoles de Nintendo, le public des jeux et des consoles n'étant pas compatibles. Réputé pour créer des jeux matures voire polémique comme GTA, le public ciblé de Rockstar Games n'est donc clairement pas adapté au jeu en famille que met en avant le constructeur japonais.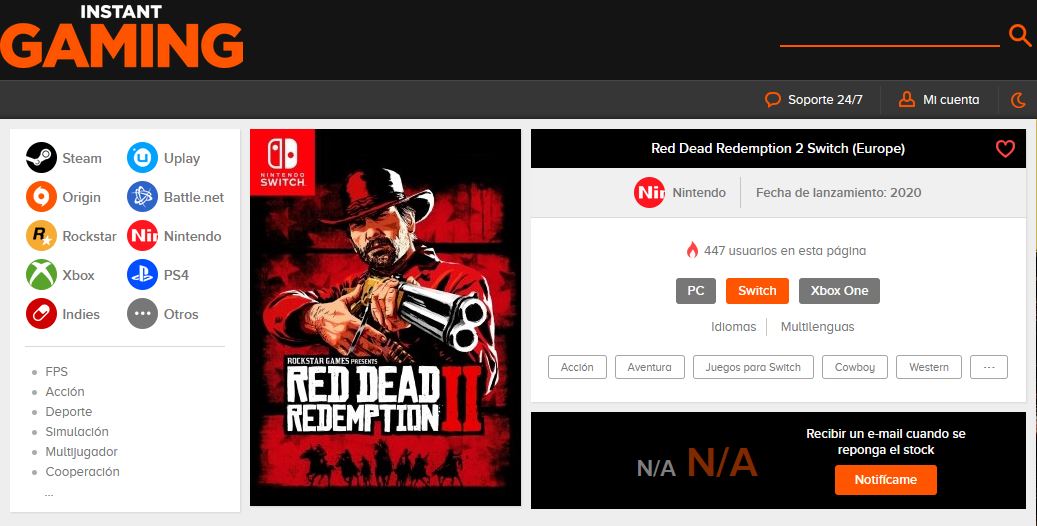 Red Dead Redemption 2 pourrait être adapté sur Nintendo Switch en 2020
Cependant depuis la sortie de la Nintendo Switch en 2017 nous avons pu être témoins de l'élargissement du catalogue de la console bien au-delà des jeux tous publics en proposant notamment des portages de Doom, The Elder Scrolls V: Skyrim et plus récemment The Witcher 3. Si cette rumeur se confirme, Red Dead Redemption 2 sur Switch pourrait bien voir le jour dans le courant de l'année 2020. Rappelons tout de même qu'il ne s'agit que de rumeurs et qu'il peut tout simplement s'agir d'une erreur d'Instant Gaming.