Quel build jouer pour le leveling sur Wolcen: Lords of Mayhem ? On vous présente un build Stasis Knight utilisant Bulwark of Dawn et Bleeding Edge.
Alors que Wolcen: Lords of Mayhem vient tout juste de sortir de nombreux joueurs sont déjà en train de s'aventurer dans les différents actes de la campagne ou bien participer au développement de Stormfall. Pour se faire il faut toutefois être bien préparé et bien équipé. Le YouTubeur Fextralige a proposé en vidéo un build Stasis Knight, utilisant Bleeding Edge et Bulwark of Dawn, que l'on vous détaille ici.
L'équipement pour le build Stasis Knight sur Wolcen: Lords of Mayhem
Ce build étant destiné en partie au leveling, aucun objet précis n'est central. Toutefois ce build se jouant avec la compétence Anomalie il faudra s'équiper d'une arme à une main dans la main droite et d'un catalyste dans la main gauche. Idéalement l'arme à une main doit comporter trois emplacements de gemmes Offensives. En dehors de ces deux objets essentiels il faudra privilégier les objets de la classe Lourd, notamment ceux qui donnent de la réduction de cooldown, les dégâts éthérés (ou à défaut d'Ombre et de Givre) et ce qui touche aux dégâts critiques.
Les détails du build Stasis Knight par Fextralife (vidéo en anglais)
Les sorts du build Stasis Knight sur Wolcen: Lords of Mayhem
En ce qui concerne les sorts le build est à mi-chemin entre le lanceur de sorts et le guerrier. Il utilise donc le sort Anomalie pour regrouper les ennemis et infliger quelques dégâts mais aussi sur Bleeding Edge pour des dégâts de zone importants. Bulwark of Dawn est là quant à lui pour assurer la survavibilité du joueur. On notera cependant que le build manque un peu de mobilité et fonction principalement en attirant les adversaire vers soi pour les mettre dans un état de stase et infliger des dégâts. Retrouvez ci-dessous le détail des sorts utilisés par Fextralife.
Bleeding Edge avec les modificateurs Unstoppable Momentum, A Taste for Blood et Self-adjusting Principle.
Anomalie avec les modificateurs Rending of Matter, Dislocating Threads et Temporal Dilatation.
Tracker's Reach avec les modificateurs Arresting Claw et Unrelenting Hunt.
Bulwark of Dawn avec le modificateur Sacred Grounds.
Juggernaut
Roue du destin, talents et caractéristiques du build Stasis Knight sur Wolcen: Lords of Mayhem
Pour la Roue du destin, le système de talents de Wolcen, Fextralife a choisi de piocher dans tous les archétypes présents. Les principales sections à choisir seront tout d'abord le Soldat, pour ensuite poursuivre vers l'Assassin et l'Enfant de la Furie dans le but d'obtenir la regénération passive de Rage. Toutefois les sections Time Weaver et Cabaliste ne seront pas à négliger pour profiter du potentiel du sort Anomalie. Retrouvez ci-dessous le chemin à emprunter avec comme le montre Fextralife sur son site officiel.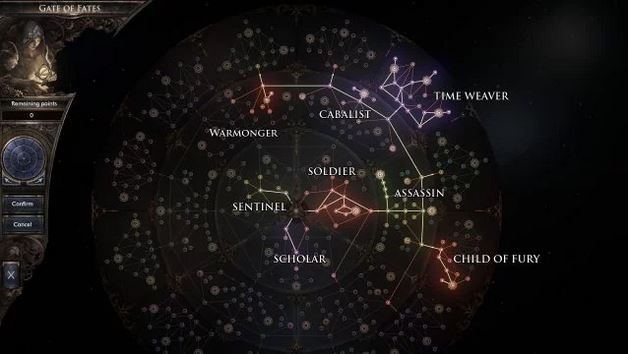 La Roue du Destin emprunte à tous les archétypes présents sur Wolcen: Lords of Mayhem
Pour les points de caractéristiques il faudra mettre des répartir les points de la façon suivante :
Robustesse (60% des points)
Férocité (environ 35% des points)
Sagesse ( environ 5% des points)
Agilité (0% des points)
Comme mentionné dans notre guide pour bien débuter sur Wolcen il ne faudra pas négliger la Robustesse qui permet d'obtenir des points de vie et de bouclier supplémentaires. En effet la campagne est assez difficile et être résistant sera primordial pour réussir à la passer sans trop de difficultés.
Il est toutefois important de rappeler qu'étant donné la sortie très récente de Wolcen: Lords of Mayhem il reste beaucoup de possibilités à explorer et que ce build Stasis Knight est simplement le fruit des premières expérimentations. Ce build semble toutefois être au point et devrait faire la joie des joueurs arrivés dans le mode Champion de Stormfall.


Tous nos guides et builds sur Wolcen