Après avoir annoncé son partenariat avec YouTube Blizzard dévoile ses plans pour les MDI de World of Warcraft en 2020.
Il y a quelques semaines Activision-Blizzard annonçait un partenariat exclusif avec Google ayant pour conséquence la fin des retransmissions de ses compétitions esport sur Twitch. Depuis peu la Call of Duty League, les Masters Tours d'Hearthstone et l'Overwtahc League sont donc uniquement diffusés sur YouTube. Ce partenariat concerne églament l'esport sur World of Warcraft qui voit également des nouveautés arriver pour les Mythic Dungeon Invitational (MDI) et l'Arena World Championship (AWC).

MDI 2020, les plans de Blizzard pour le Mythic Dungeon Invitational
Le Mythic Dungeon Invitational de 2020 suivra un format similaire au circuit AWC prévu pour correspondre à la date de fin de l'extension Battle for Azeroth. Le circuit sera donc divisé en trois coupes séparant les régions majeures de la compétitions (Amérique du Nord et Europe/Asie) pour se terminer avec les Battle for Azeroth Finals qui possédera une dotation de 300000$. Blizzard a également précisé que ce format serait celui employé pour les autres compétitions à venir. Chaque circuit se conclura par une LAN ce qui permettra à Blizzard d'apporter des changements plus rapidement si nécessaire.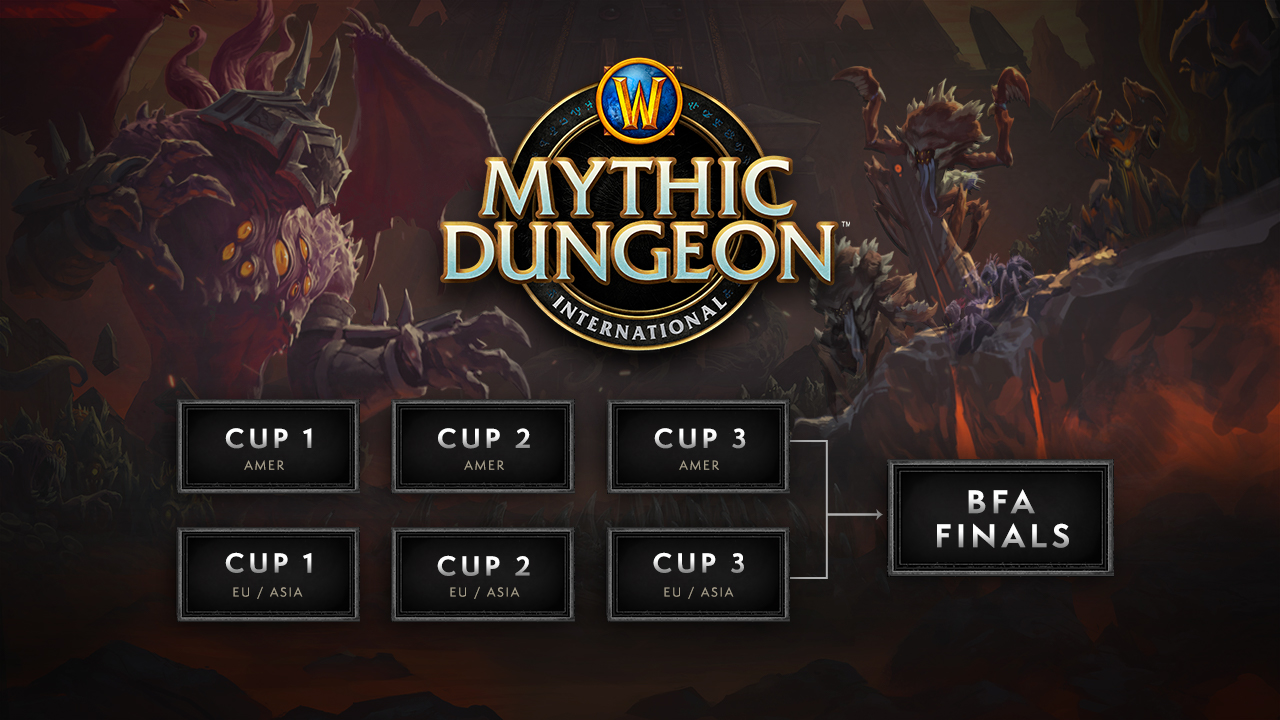 Le circuit des MDI sera organisé de façon à correspondre à la fin de Battle for Azeroth
Les joueurs seront répartis selon leur région comme présenté ci-dessous :
La division Europe et Asie (EU/Asie) inclut des joueurs d'Europe, du Moyen-Orient, d'Afrique, de Corée, de Chine et de Taïwan.
La division Amériques (AMER) inclut des joueurs des Amériques, d'Australie et de Nouvelle-Zélande.
(source : Blizzard)
Mécagone et Éveillé, nouveau donjon et nouvel affixe pour les MDI 2020
Récemment Blizzard a également introduit deux nouveautés majeures : Opération Mécagone et Éveillé. Le donjon, composé de huit boss, sera divisé en deux ailes : la Casse et l'Atelier. L'affixe Éveillé permettra aux joueurs de passer certaines parties du donjon en utilisant astucieusement une obélisque qui les enverra affronter un serviteur de N'Zoth dans un monde parallèle.
Blizzard n'a toutefois pas encore communiqué de dates plus précises pour ces différents tournois et n'a évoqué que brièvement la question de la BlizzCon qui ne semble désormais plus être le point culminant de l'esport sur ses jeux. Des informations supplémentaires seront donc probablement dévoilées dans les semaines à venir.