Avec la saison 6 de Warzone sur Call of Duty: Modern Warfare le métro a fait son arrivée dans le Battle Royale. Entrée, station et carte, on vous explique tout.
Après l'ouverture du stade et du train lors de saisons précédentes, Activision continue de proposer des nouveautés sur Warzone en y intégrant un métro souterrain. Le Battle Royale de Call of Duty: Modern Warfare se dote ainsi d'un circuit complet qui permettra aux joueurs de se rendre plus rapidement d'un endroit à l'autre.
Retrouvez ici tout ce qu'il faut savoir sur le métro dans Warzone, le Battle Royale gratuit de Modern Warfare.
Entrée, station et map... Toutes les infos sur le métro de Warzone dans Call of Duty: Modern Warfare
Dans un tweet publié peu avant la sortie de la saison 6 de Call of Duty: Modern Warfare et Warzone, Activision avait dévoilé la carte du métro sur le compte Twitter du jeu. Retrouvez ci-dessous la carte du réseau de métro dans Warzone.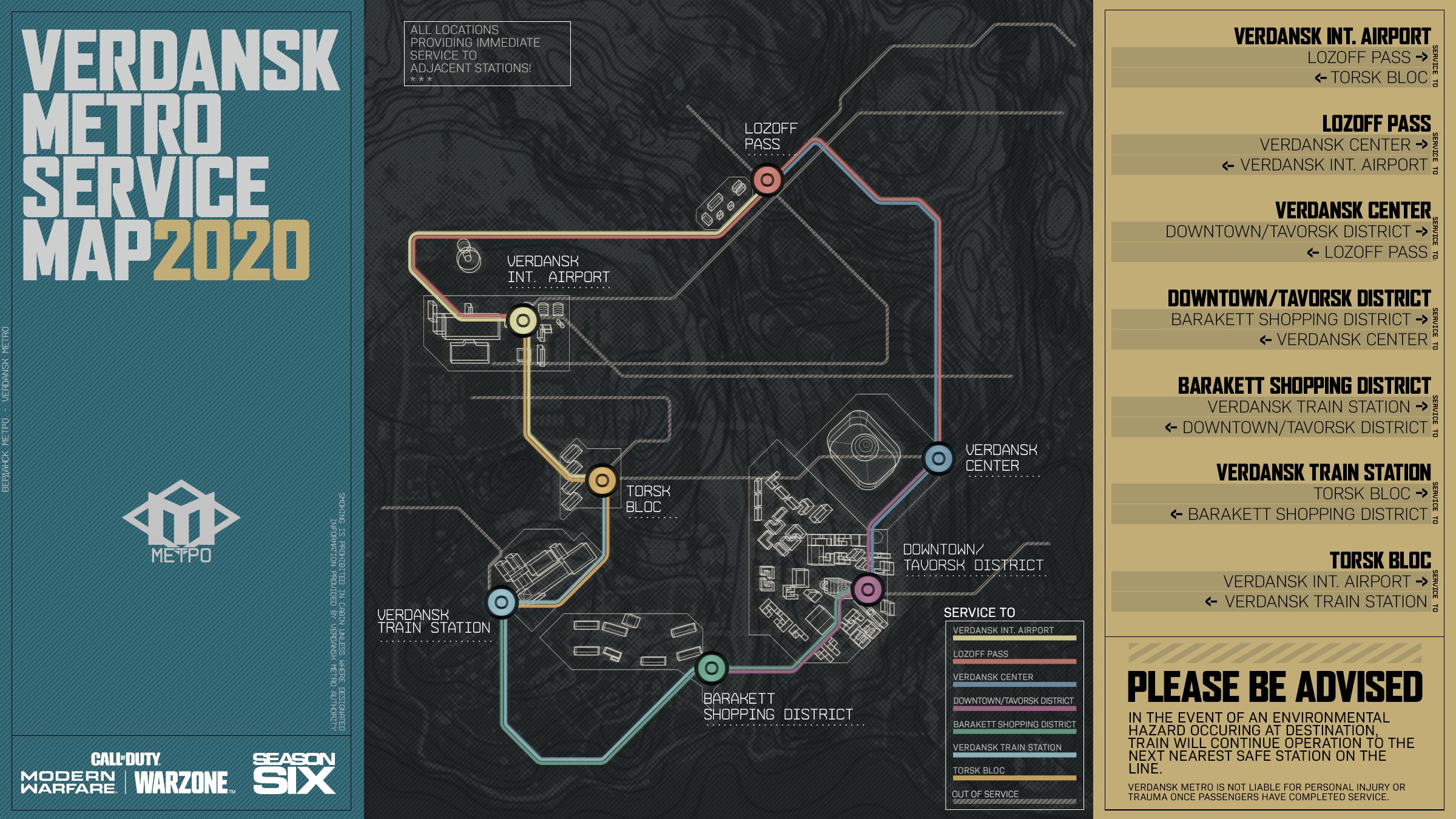 La carte du métro sur Warzone publiée par Activision
Le métro de Warzone relie donc certains points clés de Verdansk comme l'aéroport, la gare ou encore le centre ville. Il comporte pas moins de sept stations.
Verdanks International Airport
Lozoff Pass
Verdansk Center
Downtown / Tavorsk District
Barakett Shopping District
Verdansk Train Station
Torsk Bloc
Il n'existe cependant pas de ligne unique qui permet de relier toutes ses stations, il faudra donc effectuer des changements pour faire certains trajets. On remarquera également la présence de certains lignes hors-service, peut-être du contenu pour une prochain saison ou mise à jour ?