Découvrez comment progresser rapidement et avec efficacité dans le nouveau de cartes de Riot Games : Legends of Runeterra.
Les jeux de cartes ont l'avantage d'offrir des axes d'améliorations clairs et précis, et Legends of Runeterra n'y fait pas exception. Si vous appliquez les conseils de cet article régulièrement, vous pourrez progresser rapidement dans LoR !
La connaissance de Legends of Runeterra
La connaissance est la base de tous jeux de cartes. Pour progresser, vous devrez jouer, jouer et encore jouer ! Vous pourrez ainsi deviner quelles cartes jouera votre adversaire, comment réagir et même tout simplement connaitre vos propres synergies.
A la sortie de la bêta ouverte, le jeu en sera à sa meilleure période. Tout sera nouveau, alors n'hésitez pas à tester de nombreuses cartes. Ca sera l'occasion de découvrir de nouvelles combinaisons, et surtout d'apprendre.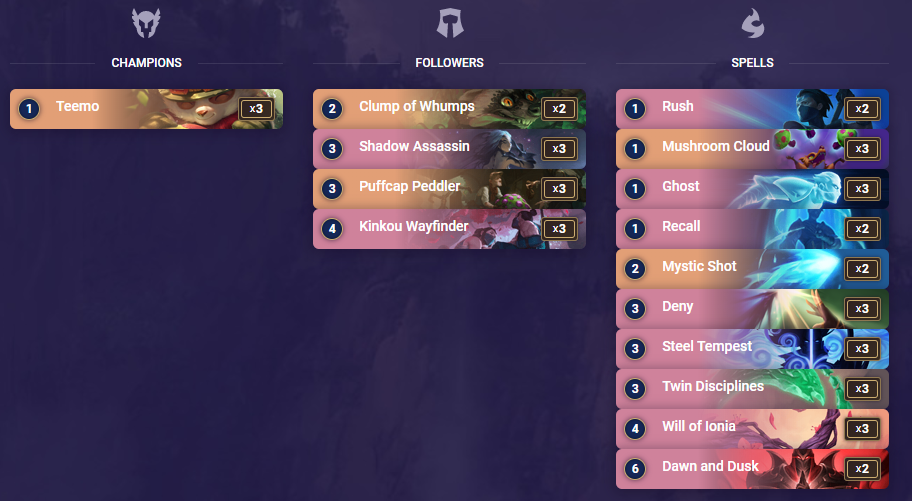 Le deck Teemo n'est qu'un des nombreux decks de LoR, et il vous posera quelques soucis... (Crédits : Mobalytics)
Connaître et s'adapter aux matchups
Peu importe votre deck, vous trouverez toujours des contres, plus ou moins spécifiques. Le tout est d'apprendre à jouer du mieux que vous le pouvez contre ces matchups. Par exemple, contre un matchup difficile - le deck Teemo contre un deck agressif de Noxus par exemple- vous pourrez jouer de façon plus défensive, voire changer votre choix de cartes pour y implémenter des options plus utiles si vous croisez souvent ce némésis. Connaitre ses matchups est la clé pour augmenter votre winrate.
Adapter son mulligan
Le mulligan consiste à choisir quelles cartes vous souhaitez enlever de votre main de départ. Ces dernières seront remplacées par de nouvelles choisies aléatoirement. Découlant directement de la connaisance, votre mulligan est le second élément le plus important !

Pour effectuer un bon mulligan, connaitre les cartes importantes de son deck est obligatoire. Votre mulligan devra également s'adapter à votre adversaire. Encore une fois, le jeu est très récent, et savoir comment effectuer votre mulligan risque d'être compliqué. Jouer un maximum, surtout au début, sera très efficace pour prendre de l'expérience.
Si vous voyez que vous avez du mal contre un archétype qui a beaucoup de créatures de début de partie, allez chercher vos propres unités pour y répondre, ou au contraire vos sorts de dégâts de zone. Adaptez vous, et prenez des risques ! C'est comme ca que vous pourrez apprendre.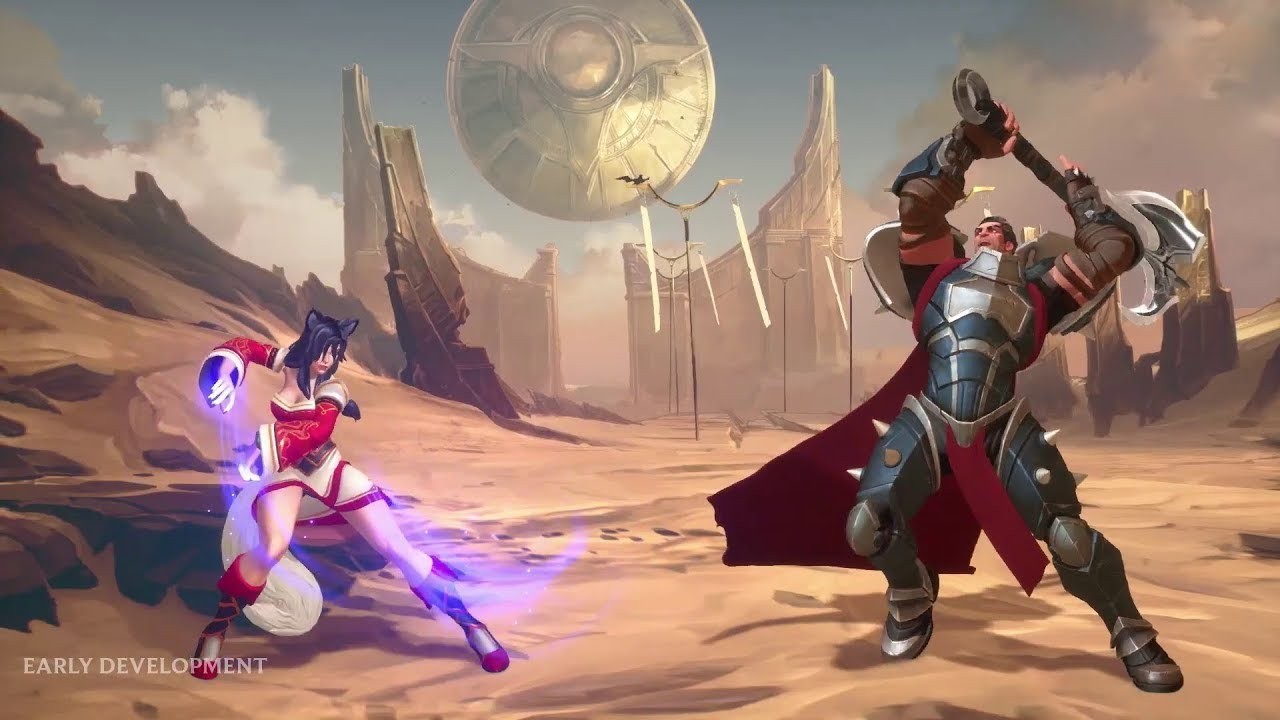 De nombreux matchups vous attendent dans LoR.
Pour apprendre... regardez les autres
Jouer est un des meilleurs moyens pour progresser, mais pas seulement ! Avec un nouveau deck, ou un deck difficile à jouer, regarder des streamers ou vidéos peut être très utile. Vous pourrez ainsi voir les erreurs que vous faisez, comment mulligan, et quel plan de jeu adopter.
Disguised Toast, ou même Dog sont des joueurs expérimentés en jeu de cartes. Ils streameront le jeu intensivement à la sortie, donc n'hésitez pas à passer sur leurs streams.
Dog streamant LoR.
Et surtout, amusez vous ! Le jeu est récent, la méta et les decks les plus puissants ne sont pas encore découverts. Rendez-vous le jeudi 23 janvier à 20 heures pour tester toutes les nouveautés, et n'oubliez pas de vous préinscrire sous peine de devoir attendre le vendredi 24. !