Un Smash Direct se tenait ce 16 janvier. Retrouvez dans cet article un récap de toutes les annonces faites lors de ce direct de Nintendo.
Super Smash Bros. Ultimate continue à ajouter du contenu et ce jeudi 16 janvier, Nintendo tenait un Smash Direct à partir de 15 heures pour présenter le nouveau personnage mais aussi bien d'autres choses dont voici le résumé ci-dessous.
Byleth, nouveau personnage de Super Smash Bros. Ultimate
Ce n'est pas un mais deux personnages qui rejoignent le line-up de Super Smash Bros. Ultimate. mais contrairement aux attentes, c'est le héros de Fire Emblem Three Houses, Byleth dans ses deux formes, masculine et féminine qui a été choisi par Masahiro Sakurai, le directeur de Super Smash Bros. Ultimate.
Ce nouveau personnage disposera de quatre armes différentes, une épée, une lance, une hache et un arc qui seront toutes associées aux touches directionnelles. Chacune aura bien évidemment ses spécificités.
Le personnage disposera également de costumes différents selon le nombre de joueurs qui auront sélectionnés Byleth. Chacun des costumes sera en lien avec les maisons de Fire Emblem et l'un des costumes sera également aux couleurs de Sothis.
Au niveau de son mouvement ultime, le personnage s'associera à Sothis pour infliger de lourds dégâts à vos adversaires.
Avec ce nouveau personnage, une nouvelle arène fait son apparition et prend place dans les lieux de l'Académie de Three Houses. Onze nouvelles pistes audios seront également disponibles que voici :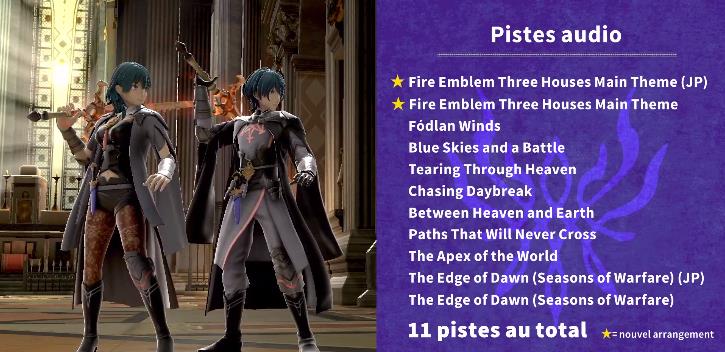 Le prix de ce nouveau personnage qui arrivera le 29 janvier est de 5,99 euros si vous n'avez pas acquis le Fighters Pass qui est de 24,99 euros et qui comprend au total 5 personnages en comptant l'ajout de Byleth.
Fire Emblem Three Houses - Ombres embrasées annoncé
Lors du live et puisque le nouveau personnage est le héros de FETH, les joueurs ont pu découvrir un trailer pour la quatrième extension du jeu. Dans cette extension, vous pourrez partir à la rencontre de la quatrième maison secrète de l'Académie des officiers, les Loups de cendre.
Cette extension appelée les « Ombres embrasées » arrivera le 13 février dans le cadre du pass d'extension qui est on le rappelle de 24,99 euros.
De nouveaux costumes pour le Combattant Mii
Le combattant Mii disposera de 5 nouveaux costumes qui sont chacun fixé à 0,80 euros. Vous pourrez ainsi acquérir, un costume Assassin's Creed, Des Lapins Crétins, Megaman X, Megaman Battle Network et Cuphead. Ces nouveaux costumes seront ajoutés à partir du 29 janvier.
De nouveaux Amiibo arrivent
Deux nouveaux Amiboo seront également disponibles à partir du 17 janvier. Ces deux nouveaux Amiibo sont Samus Sombre et Richter et sont achetables chacun pour 14,99 euros.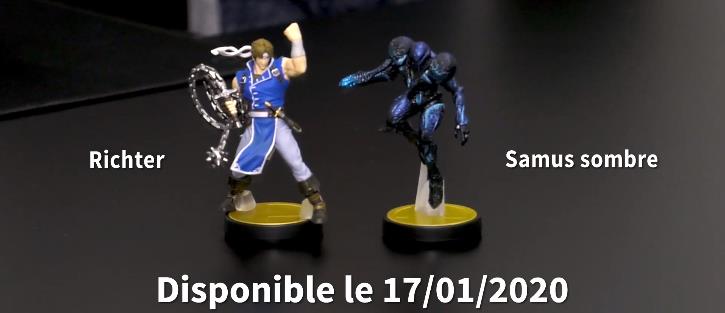 Un nouveau Fighters Pass
Un nouveau Fighters Pass sera disponible à partir du 29 janvier. Contrairement au passe précédent, celui-ci est fixé à 29,99 euros puisque ce n'est pas cinq mais six nouveaux personnages qui seront ajoutés avec ce passe.
Pour tous les acquéreurs de ce passe, ils auront en prime des nouveaux combattants, une apparence pour l'Épéiste Mii, l'équipement Archéonique issu de The Legend of Zelda : Breath of the Wild.