À l'approche de la sortie de VALORANT Riot Games dévoile le système de rangs qui rythmera la progression des joueurs au fil des parties classées.
Depuis l'annonce de VALORANT, Riot Games a affirmé que le jeu aurait pour ambition d'être compétitif. Il n'est donc pas étonnant que la firme américaine dévoile aujourd'hui les différents rangs qui permettront d'établir un classement entre les joueurs du FPS.
Retrouvez ici ce que l'on sait sur le système de rangs tel qu'il a été présenté par Riot Games, ainsi que ses ambitions esport.
Mise à jour 01/05 : Le mode ranked devrait arriver à 9h30 s'il n'y a pas de problème !
In the next 30 minutes we're going to turn ranked on in North America.

If all goes well there, we'll turn ranked on in Europe after the hotfix patch (so after 9:30AM CEST on May 1).

We also... reserve the right to turn off ranked at any time if things get weird.

— VALORANT (@PlayVALORANT) April 30, 2020
Un mode ranked sur VALORANT ?
Le Game Director « Ziegler » a récemment confirmé sur Twitter l'arrivée dans les semaines à venir, d'un premier test du mode ranked pendant la bêta. N'oublions pas que la bêta fermée est disponible depuis le 7 avril 2020 et que la sortie du jeu est prévue pour cet été ! Cette réponse fait suite à la frustration d'un joueur qui vient de perdre une game avec un énorme score personnel. Les joueurs ont uniquement la possibilité de jouer sans classement et visiblement il n'y a aucun signe de SBMM (Skill Based Matchmaking).
Our first "rated" testing is coming in a couple weeks, stay tuned.

— Ziegler (@RiotZiegler) April 10, 2020
Notre test du mode ranked devrait arriver dans les prochaines semaines
Quel système de ranking sur VALORANT ?
Les rangs dévoilés par Riot vont de « Mercenary » à « Valorant ». Chaque rang a 3 divisions sauf le rang le plus élevé « Valorant » qui n'en a qu'une seule. Pour le moment, on ne connaît aucune date précise et on ne sait toujours pas comment fonctionnera le système de ranked.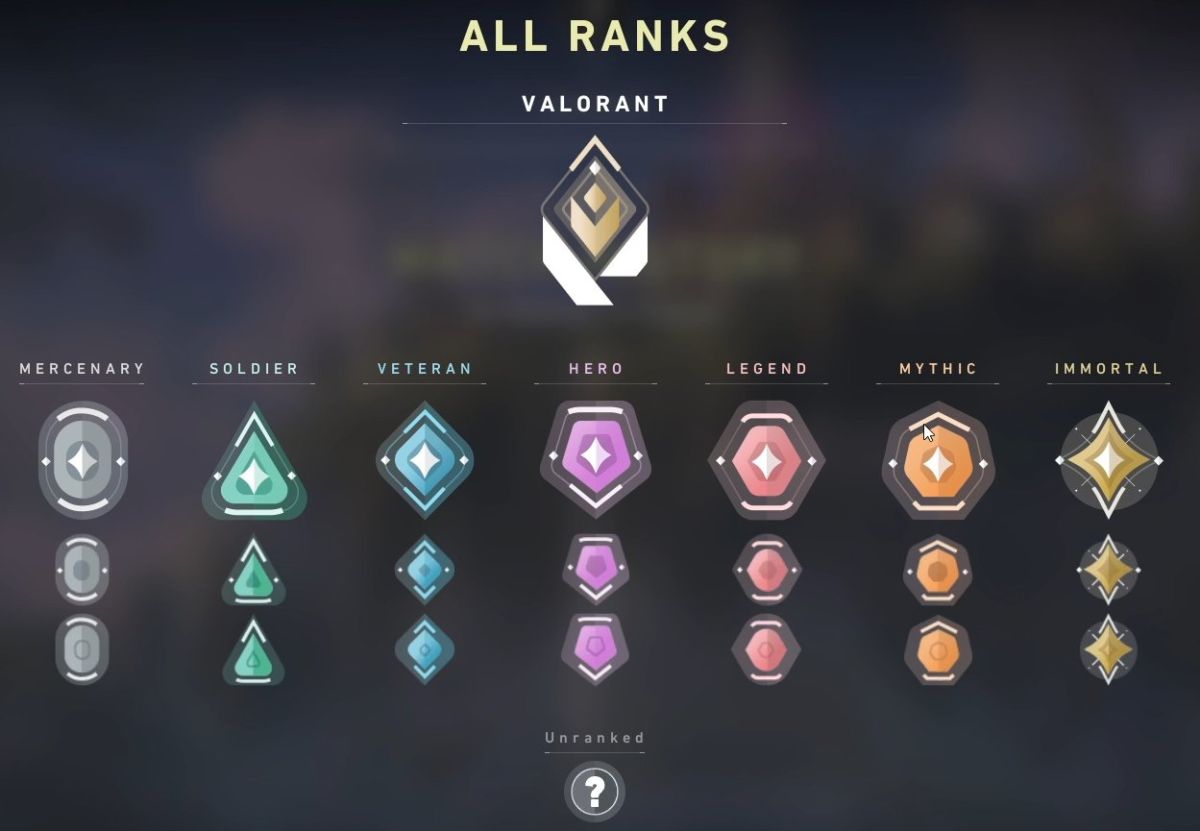 Les différents rangs pour les parties classées sur VALORANT (crédits image : pcgamer)
Il y a de fortes chances que comme dans les autres jeux Riot, des récompenses soient offertes à la fin de chaque saison en fonction de votre rang. Toutefois il vaut mieux attendre et voir pour pouvoir confirmer ces informations.
Un mode ranked qui mène à l'esport sur VALORANT !
Whalen « Magus » Rozelle, directeur de la section esport, a partagé ses ambitions concernant la scène compétitive de Valorant. Pour lui le jeu a tous les ingrédients pour se faire une place dans l'esport.
Pour construire l'esport sur Valorant, Riot prévoit une ligne de conduite autour de trois principes fondamentaux : l'intégrité compétitive pour que tous les joueurs aient une chance d'atteindre le plus haut niveau, l'accessibilité promet aux joueurs de tous les horizons d'être bienvenue dans la communauté, et l'authenticité qui signifie que l'esport sur Valorant sera construit pour et avec les joueurs ! (source)