Quel build jouer sur Wolcen: Lords of Mayhem ? On vous présente un build Mage Anomaly.
Alors que Wolcen: Lords of Mayhem vient tout juste de sortir de nombreux joueurs sont déjà en train de s'aventurer dans les différents actes de la campagne ou bien participer au développement de Stormfall. Pour se faire il faut toutefois être bien préparé et bien équipé. Bien que l'archétype Plagueburst/Bleeding Edge soit populaire chez les Mages on vous propose ici un build plus classique.
L'équipement pour le build Mage Anomaly sur Wolcen: Lords of Mayhem
Ce build étant destiné principalement pour les joueurs débutant sur Wolcen, aucun objet précis n'est central. En ce qui concerne les armes il est possible de jouer avec un bâton à deux mains ou alors une arme à une main et un catalyste. Il faut toutefois se concentrer sur les objets donnant des caractéristiques comme les dégâts de foudre ou bien des classiques du mage comme de la Sagesse et surtout la réduction de délai de récupération des sorts. Les objets des classes Sorcier sont évidemment ceux recommandés pour ce build.
Les sorts du build Mage Anomaly sur Wolcen: Lords of Mayhem
En ce qui concerne les sorts le build pourra bien entendu changer au fur et à mesure du leveling avec les sorts trouvés sur les monstres ou proposés par la vendeuse de Stormfall, Demetra. Retrouvez ci-dessous le détail des sorts utilisés par le créateur du build sur wolcen-universe.
Grievous Afflictions
Infinite Shock
Saut éthéré
Thunder Strike avec le modificateur Shadow Conversion.
Anomalie
Roue du destin, talents et caractéristiques du build Mage Anomaly sur Wolcen: Lords of Mayhem
Pour la Roue du destin, le système de talents de Wolcen, le chemin à suivre sera celui de l'archétype Mage. Il faudra ainsi commencer dans l'arbre Scholar, pousuivre en suivant le chemin vers Cabalist et terminer avec Time Weaver. Retrouvez ci-dessous le chemin à emprunter avec un schéma généré par le site wolcen-universe.com.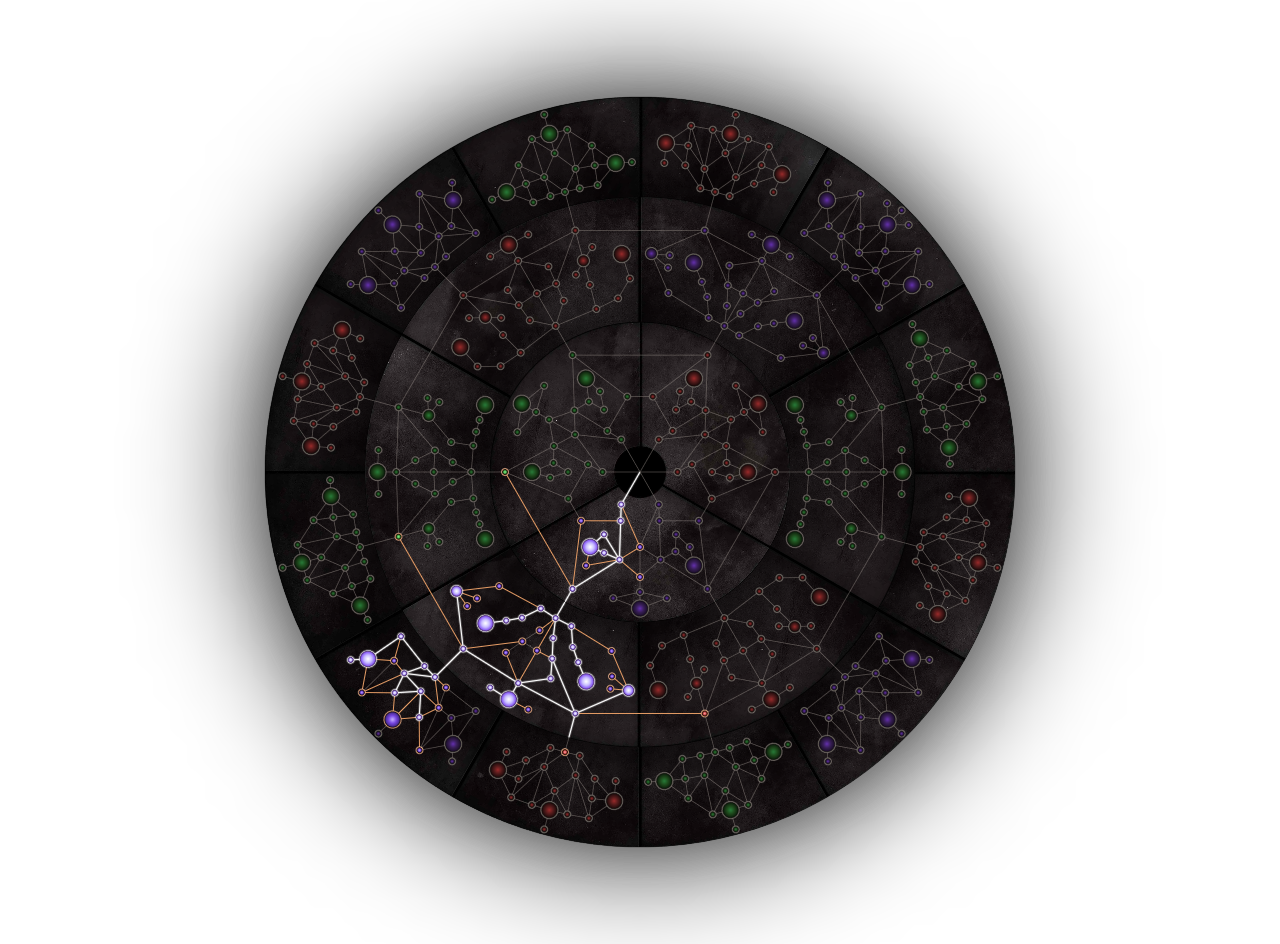 Aux alentours du niveau 35 la Roue du destin du build Mage Anomaly devrait ressemblera à cela
Pour les points de caractéristiques il faudra mettre des répartir les points de la façon suivante :
Sagesse (60% des points)
Robustesse (environ 40% des points)
Agilité (0% des points)
Férocité (0% des points)
Comme mentionné dans notre guide pour bien débuter sur Wolcen il ne faudra pas négliger la Robustesse qui permet d'obtenir des points de vie et de bouclier supplémentaires. En effet la campagne est assez difficile et être résistant sera primordial pour réussir à la passer sans trop de difficultés.
Il est toutefois important de rappeler qu'étant donné la sortie très récente de Wolcen: Lords of Mayhem il reste beaucoup de possibilités à explorer et que ce build Mage Anomaly est simplement le fruit des premières expérimentations. Il faudra donc attendre encore un peu pour voir des builds pleinement optimisés pour l'endgame du jeu.


Tous nos guides et builds sur Wolcen