Faut-il être abonné à World of Warcraft pour jouer à Classic ? Comment jouer à WoW Classic ? On vous dit tout !
Depuis la BlizzCon 2017 et l'annonce de serveurs World of Warcraft dédiés à Classic, les fans attendent avec impatience la date du 27 août, sortie officielle de WoW Classic. Mais en attendant et pour surtout tester les serveurs, Blizzard a mis en place une multitude de tests à travers le monde. L'éditeur a appelé ça des « stress tests ». Au début, ces tests n'étaient disponibles qu'à une poignée de joueurs tirés au sort. Mais ce jeudi 8 août 2019, Blizzard tape fort et annonce que l'intégralité des abonnés à World of Warcraft y auront accès à partir de 20 h.
Faut-il être abonné à WoW pour jouer à Classic ?
Oui. Vous votre abonnement pour World of Warcraft doit être actif si vous souhaitez jouer à Classic. Blizzard permet d'ailleurs aux joueurs avec un abonnement de tester en avant première Classic sur des serveurs dédiés, le 8 août à partir de 20 h en France.
Comment jouer à Classic ?
Une fois votre abonnement activé, rien de bien difficile. Vous allez devoir vous rendre sur l'application Blizzard, l'application répertoriant tous les jeux de l'éditeur et ceux de ses partenaires. Lancez la mise à jour et patientez jusqu'au 8 août 20 h.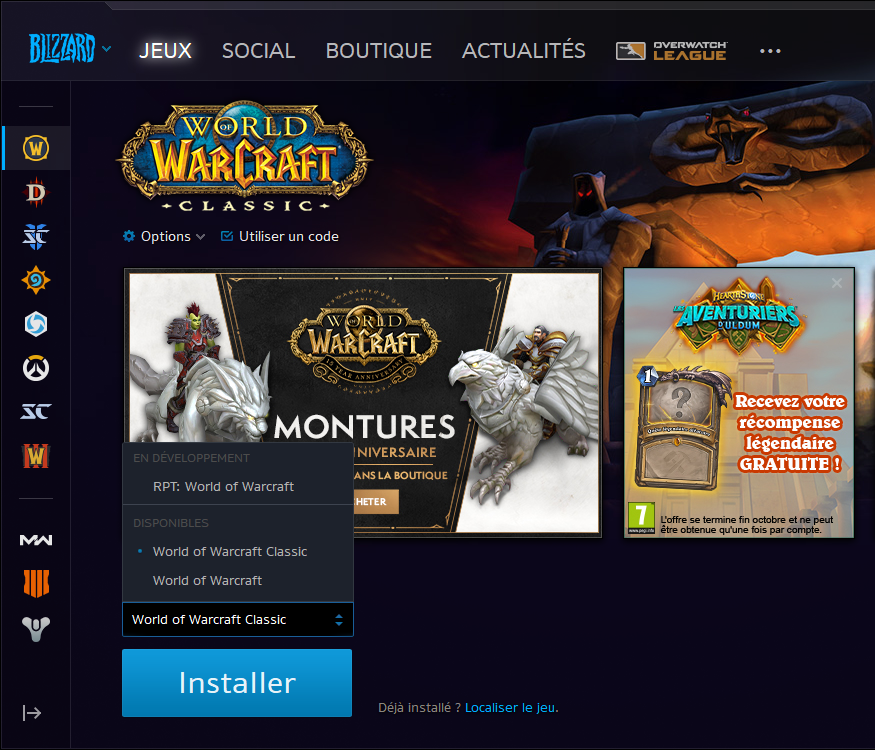 Sur Classic, on joue quoi : Horde ou Alliance ?
Vous avez le choix. Une chose est sûre, c'est que vous n'allez pouvoir jouer que les classes et les races de Classic. Oubliez vos Chevaliers de la mort, Elfes de sang et autres Taurens Paladins ! Si vous avez besoin d'aide, on vous propose des articles concernants les meilleures classes pour jouer en PvE et les meilleures classes pour le PvP !